How The New Confluence Beta Makes Teamwork Easier
Hot on the heels of Confluence 6.1, Atlassian has released a beta of the next version. We look at what's new.
Time, it's said, waits for no one. And neither, it seems, does Atlassian. Less than two months after releasing Confluence 6.1, Atlassian has already come up with a beta version of 6.2, highlighting the company's ongoing dedication to improving its products.
Available to download right now, Conluence 6.2.0-beta1 introduces a couple of intriguing new collaboration features, as well as four brand new language packs and simplified sharing.
Of course, like any beta release, Confluence 6.2.0-beta1 is not considered production ready. As Atlassian states, even though it tries to "keep these releases stable, they have not undergone the same degree of testing as a full release, and could contain features that are incomplete or may change or be removed before the next full release".
There is also no current upgrade path, but this release is not meant for end users. Instead, its aim is to provide add-on developers with an opportunity to test their add-ons and to feed back to Atlassian any necessary changes or fixes.
For the rest of us, it's a chance to see what new features Atlassian has pencilled in for future versions of this powerful wiki tool.
Start Collaborating Sooner

One of the major new additions to Confluence is the ability to invite team members to edit a page with you, without leaving the editor. You don't even need to have published the page, because unpublished drafts can also be edited in this way. Simply enter someone's name or email, or invite members of groups. They'll then receive a notification, which can take them straight to the editor.
On paper, this might seem like a minor change, but in practice, it's something that can completely change the way teams work together, making real-time collaborative editing far easier to achieve.
Resolve Permission Roadblocks Faster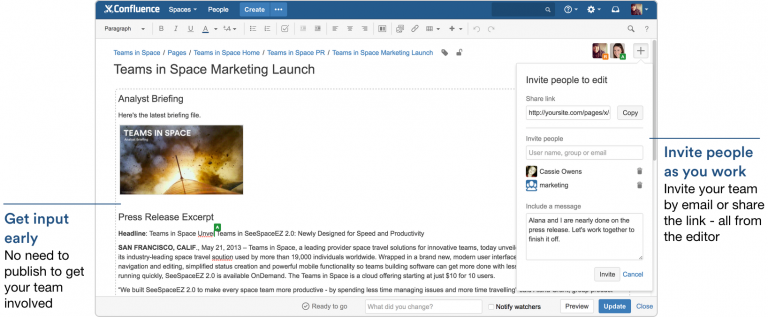 Projects can also be slowed down by space permissions and page restrictions. Although a necessary feature, for obvious reasons, some flexibility in how these work is still desirable.
In the beta, you'll find a couple of significant changes:
If you're invited to edit a page that is restricted for editing you can now request access.
If you're invited to edit a page, but don't have Add permission in that space, you'll get a link to a list of space admins so you know who to contact next.
You still won't be able to view pages that you don't have permission to access, though. That feature is just as secure as it always was.
Other Features
As well as adding Finnish, Italian, Norwegian and Romanian languages to Confluence, the 6.2.0-beta1 version also includes simplified sharing. To share a page, you just hit 'Share' when viewing it, and it will automatically grab a shortlink, ready to paste wherever you like.
There are also infrastructure changes, so if you're a Confluence developer, you'll want to keep an eye on this page, to make sure you're fully prepared for Confluence 6.2 when it arrives.
Atlasssian expert resources
Visit our blog for expert news and articles from the Atlassian world. On our resources page you will find recorded webinars, white papers, podcasts, videos and more.
Read our blog for articles offering best practice advice written by Atlassian experts, as well as the latest news concerning your software.
Software White Papers and Guides
Dive deep into Atlassian software with our white papers and guides on individual tools, partner products, services, and best practices, written by the experts.
All of our webinars are pre-recorded and available to watch on-demand. Enjoy everything from partner features to application demos and updates from Atlassian experts.