What is ITIL? What is ITSM? What is the difference! Find out all you need to know in this blog post and get tips on software.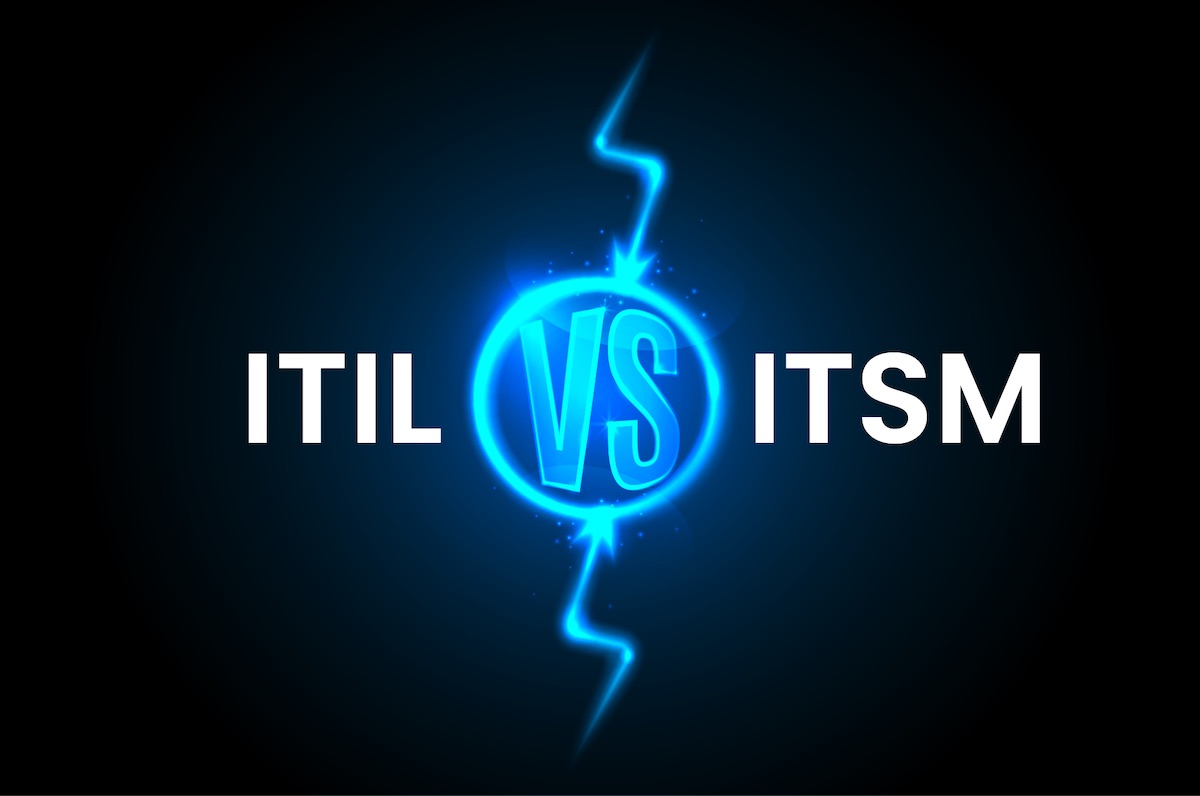 The Information Technology Infrastructure Library (ITIL) has grown in popularity since its inception in the 1980s by the British government when it was introduced as a set of standards to improve the performance of IT.
Today, it is owned by Axelos, a joint venture between the British Government Cabinet Office and Capita, and is a widely accepted set of best practices.
The latest version of ITIL, ITIL 4, was released in 2019 and takes a holistic and adaptable approach to ITSM.
What is IT Service Management (ITSM)?
ITSM is about the delivery of IT as a service. Rather than IT systems, ITSM focuses on customer needs, stressing the importance of continuous improvement.
ITSM aligns an IT team's goals with the broader objectives of a business and ensures that their actions support the overall mission.
The difference between ITIL and ITSM
ITIL was created with ITSM in mind and is the most widely accepted approach to it. Whilst ITSM is a methodology for delivering IT to the business, ITIL is a commonly-used set of practices outlining how to implement ITSM in a business.
The main difference between the two comes down to the idea that ITIL is a framework or a set of guidelines to assist in implementing the activities involved in ITSM.
ITIL 4 and the ITIL framework
With the release of ITIL 4, ITIL has become more flexible and adaptable, evident in its latest framework and guiding principles.
Introducing to your IT team the kind of structure that ITIL provides can help align them with business goals, as well as streamline the delivery of service, track costs, and above all, keep customers happy.
Make sure you evaluate the ITIL framework, practices, and guidelines and implement what works best for you.
ITIL is evolving with IT teams and new ways of working. It's no longer necessary or encouraged to strictly adhere to all of the processes outlined by ITIL and ITSM. Instead, IT teams are embracing flexibility and collaboration.
ITSM software aligns IT teams with business needs and takes a strategic approach to organisational change, transformation, and growth. There are a variety of ITSM software tools out there, such as Jira Service Management, ServiceNow, Freshdesk, and SolarWinds, to name several.
Atlassian was named a Leader in The Forrester WaveTM: Enterprise Service Management, Q4 2021 for Jira Service Management, and for good reason. Jira Service Management empowers all departments to be a service team with features that include service request management, knowledge management, advanced forms, delegated administration permissions, conversational ticketing, and asset and configuration management.
In terms of ITIL, Jira Service Management provides default ITSM practices, such as standard workflows so you can customise your service project to meet your company's rules, regulations and requirements. Jira Service Management also provides out-of-the-box metrics, allowing you to drill down and export if you want more advanced business intelligence.
JSM projects come with a service catalogue, ITIL workflows, automation, and basic reports. You can also set up a knowledge base in Jira Service Management by adding Confluence to your site. Learn more about ITSM in our recording below.
Share this blog post on your social.
Visit our blog for expert news and articles from the Atlassian world. On our resources page you will find recorded webinars, white papers, podcasts, videos and more.
Read our blog for articles offering best practice advice written by Atlassian experts, as well as the latest news concerning your software.
Software White Papers and Guides
Dive deep into Atlassian software with our white papers and guides on individual tools, partner products, services, and best practices, written by the experts.
All of our webinars are pre-recorded and available to watch on-demand. Enjoy everything from partner features to application demos and updates from Atlassian experts.