Jira Service Management vs. SolarWinds
In this article, we compare Jira Service Management (JSM) with SolarWinds to help you make an informed decision on the best tool for you.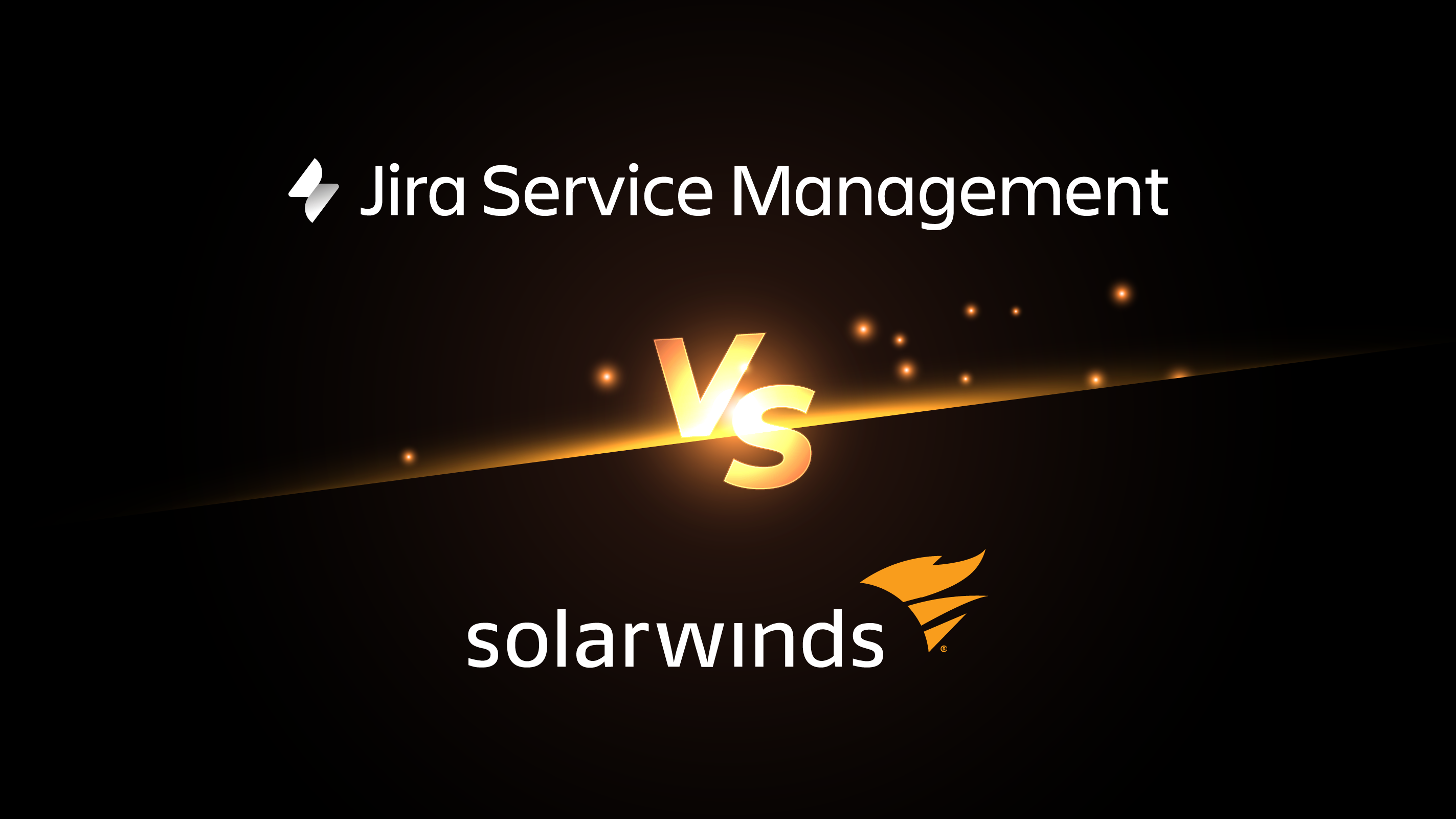 Jira Service Management (JSM) is known for its rich and modern incident and change management capabilities built for the DevOps era. SolarWinds is regarded for its ease of use. Let's see how they compare…
| | |
| --- | --- |
| Jira Service Management | SolarWinds |
| Has a free plan for 3 agents or less. | SolarWinds has no free plan. |
| The Atlassisn Marketplace has 800+ plug-and-play apps. | SolarWinds has a few select integrations but no marketplace. |
| Supports small, medium, large, and enterprise deployments. | Supports small and medium-sized deployments. |
| Offers customisable templates for ITSM, customer service, and business teams. | Designed for ITSM based teams. |
| $10,650 For 25 Premium users. | €20,700 For 25 Professional users. |
Why Jira Service Management?

JSM is Atlassian's answer to the ITSM world. It was created by Atlassian after research showed customers using Marketplace apps to turn their software projects into a makeshift service desk for internal users. Seeing the power, Atlassian used these apps to create the groundwork of JSM as we know it today.
JSM offers familiarity to users. It utilises the power of Jira's core platform with workflows and custom fields to provide an adaptable, bespoke tool that suits different teams. With a primary design focus on ITSM and operational-based teams, JSM is verified as having the capability to house the four main processes of ITIL – Incident, Problem, Request, and Change Management – to provide standard processes and efficiency out-of-the-box. During Gartner's 2021 review of ITSM applications, JSM was recognised as the only visionary vendor.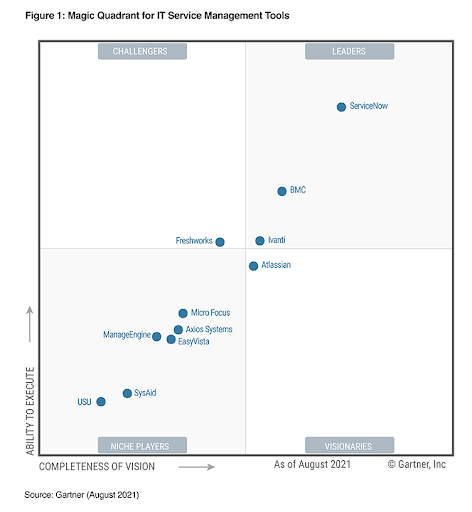 SolarWinds' service desk application is easy to use. It allows for a quick setup to propel teams in the right direction.
With its simple design, it is easy to get newly developed teams off the ground with ITSM fundamentals. The application isn't verified, but it can handle all four of the main ITIL processes to some degree. SolarWinds has different plan levels available to help keep costs down for evolving teams. During the Gartner 2021 review of ITSM applications, SolarWinds was not recognised within the Quadrant.
The similarities and differences between JSM and SolarWinds
Now that we have a brief understanding of the two products and what they can do, let's see how they stack up against each other…
Both have the ability to filter tickets in a customisable view. Filtering incoming work allows you to sort requests into relevant queues, but more importantly, to proactively shift resources around which can prevent incidents from worsening.

Both allow you to build custom reports on the information within the application, however, the reports in SolarWinds does not allow for custom fields.

Both have a portal, allowing customers to select the right type of request from the catalogue. Having a catalogue means you can specify the required information.
Both allow you to post internal notes and comments for customers. This is important in keeping a complete audit trail of what is happening with a ticket, while only allowing certain comments to be visible to the end customer.
Both can create a knowledgebase and offer self serve articles for customers. However, this is limited for SolarWinds. A knowledgebase is vital in deflecting easy-to-handle requests by enabling customers to find information required to fix it themselves. This leaves agents with time to focus on higher priority requests.

Both versions have access to asset registers and configuration management databases (CMDBs) in the Premium and Enterprise editions.

Both allow the creation of additional 'tasks' against a ticket. In Jira, you would use Sub-Tasks. In SolarWinds, these are known simply as 'Tasks'. Breaking requests down into smaller subsets means different assignees can handle varied parts of a ticket simultaneously.

Whilst both applications allow the creation of SLAs (Service Level Agreements), SolarWinds does not allow you to use custom fields or anything outside of its standard field set. This limits SLAs. JSM has advanced functionality for the start, stop, and pause parameters for SLAs, and leverages its in-built query language (JQL) for the creation of custom goals.
Atlassian tools are open and adaptable. This allows for a huge Marketplace of third-party apps to be built and added on. JSM has over 1000 additional Marketplace apps that can extend its functionality to perfectly suit the needs of teams. However, SolarWinds does not have a marketplace. It does offer some limited integrations with certain applications, but does not provide extensive functionality capabilities.

JSM also provides access to Opsgenie, Atlassian's alert and event management tool. Opsgenie comes built in to JSM and provides enhanced major incident management capabilities. Opsgenie also provides teams with access to rotas and the ability to route tickets and notifications through to resolver teams.

Customising a service desk is important to most companies. The forms and data you use need to make sense to the business, which is why custom fields were added. Within JSM, the ability to create custom fields is a native functionality. It allows you to create unlimited custom fields of all types to capture and report on the information that makes sense to your team and business. However, you require the professional license tier or above of SolarWinds to even get custom fields. You are also limited in that you cannot report on these or use them within other areas of the tool.

With JSM, you unlock a whole instance of Jira. In short, this means you can create as many projects and portals as needed for all teams within the business. With SolarWinds, every project is its own instance, meaning you have to create multiple instances and may end up licensing a user multiple times.

With SolarWinds, you cannot define workflows as such. While you can create custom states for tickets to go into, the workflow ability is not there. In short, users must remember the process of what a state means and when a ticket can go there. JSM, on the other hand, lets you completely customise the lifecycle of a ticket, allowing you to put in specific transitions between statuses and define the flow the ticket must take from creation to resolution.

Every desk has an issue with duplicated tickets from both the same user or multiple users on the same issue. SolarWinds has the ability to merge these issues into one master. This enables the agent's queue to remain clean while delivering maximum productivity to customers. JSM can link all the tickets together as well as roll them up into a major incident, powered by Opsgenie.

Automation rules are a huge part of any high-functioning team. Where the task is repeated, look to automate. Save agents time and energy for more important tickets and let the automations handle repeated tasks. JSM leverages its automation for Jira. A4J allows you to change any and all aspects of tickets and projects, from simple actions on a ticket to in-depth, condition-based rules to route to agents, etc. SolarWinds offers automations, but is extremely limited and only allows automations on standard fields.

SolarWinds offers a built-in functionality to manage team contracts and procurements natively. Any desk is often dealing with hardware/software suppliers, and it is important to track purchases properly. While JSM does not offer this out-of-the-box, with the Premium version, you can access Insights. The Insights functionality can be leveraged to build exact capabilities with more customisable options to suit business needs perfectly.
Migrating from SolarWinds to Jira Service Management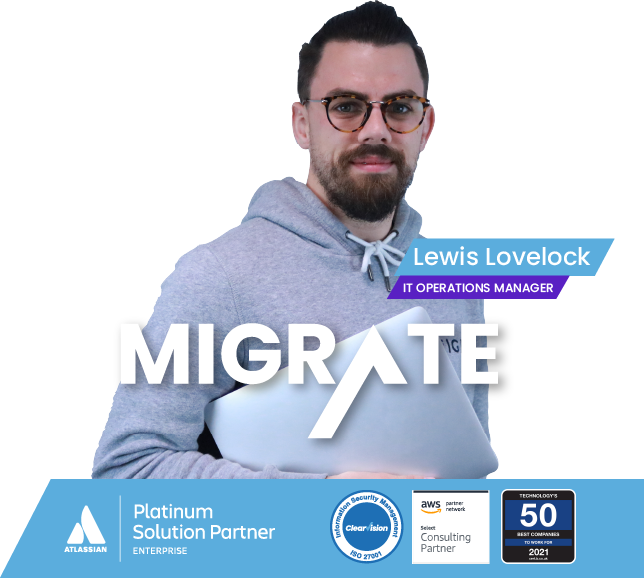 If you are looking for a new service desk, JSM fits almost every team, no matter how unique they are.
If you are currently using SolarWinds and are interested in migrating to JSM, Clearvision experts offer advice and hassle-free data migrations from SolarWinds to Jira. Clearvision consultants can:
Transfer records from SolarWinds to Jira.

Create and optimise the setup of your new Jira instance.

Provide support during and after migrations.

Ensure users know how to use all of the capabilities of JSM through world-class training.

Migrate instances of the product to a secure and preferred Cloud environment.
Read more for further information on the capabilities of Clearvision's consultants.
Visit our blog for expert news and articles from the Atlassian world. On our resources page you will find recorded webinars, white papers, podcasts, videos and more.
Read our blog for articles offering best practice advice written by Atlassian experts, as well as the latest news concerning your software.
Software White Papers and Guides
Dive deep into Atlassian software with our white papers and guides on individual tools, partner products, services, and best practices, written by the experts.
All of our webinars are pre-recorded and available to watch on-demand. Enjoy everything from partner features to application demos and updates from Atlassian experts.