JIRA Software or JIRA Core? 4 questions to help you decide
How do you decide if JIRA Software or JIRA Core is the right option for your teams? In this post, we take a look at the differences between the two, and suggest four questions to use as a starting point to help you choose.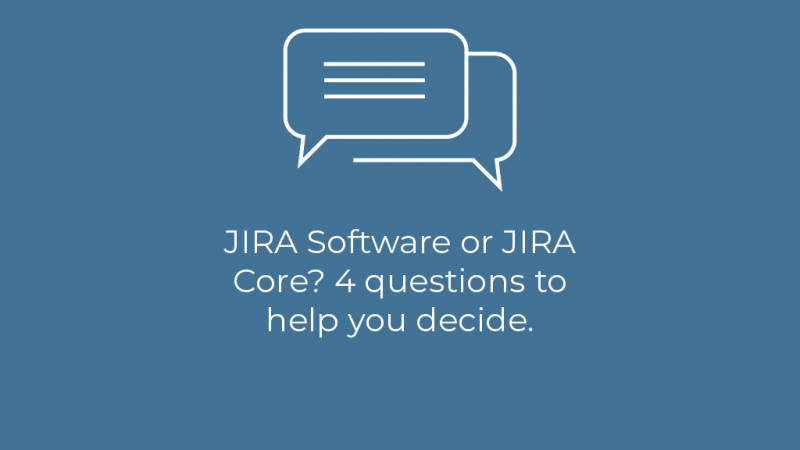 When JIRA 7 launched, Atlassian confirmed what many organizations had already been seeing. Software teams are no longer the only ones realising the benefits of JIRA.
Atlassian surveyed its customers back in 2014, and discovered that 30% of users were using JIRA for non-software projects – this was before the introduction of JIRA Core. Now that teams have the choice between JIRA Software and JIRA Core, JIRA is, more than ever, a tool for the whole business.
This raises the question, though: when should you use JIRA Software, and when should you use JIRA Core?
Despite the name, it's not always as simple as saying that all software teams should be using JIRA Software, and anyone else should use JIRA Core. In this post, we'll take a look at the key differences between JIRA Software and JIRA Core, and what questions you should be asking yourself as you make the choice between JIRA Software or JIRA Core.
JIRA Software
What's now known as JIRA Software was previously JIRA integrated with the JIRA Agile plugin. Because of JIRA Agile's runaway success, Atlassian has now combined them into one product, making procurement and licensing significantly easier.
JIRA Software is well known as the "#1 software development tool used by agile teams". Its collaborative planning, tracking, and releasing capabilities push it out far ahead of the competition, and its Scrum and Kanban boards and Release Hub dashboard bring valuable visibility to teams.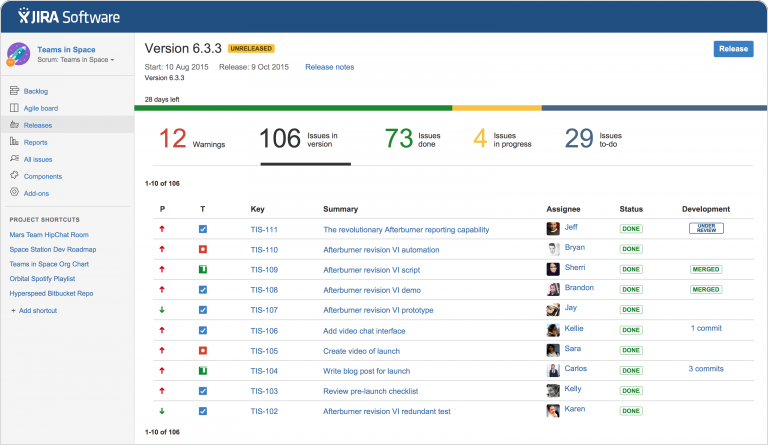 JIRA Software is highly customizable, with deep integrations with the rest of the Atlassian products and dev tools.
JIRA Core
JIRA Core is JIRA, with its processes and functionality refined for business teams. JIRA Core is powerfully flexible, meaning it can easily be configured to fit business teams of all departments and industries.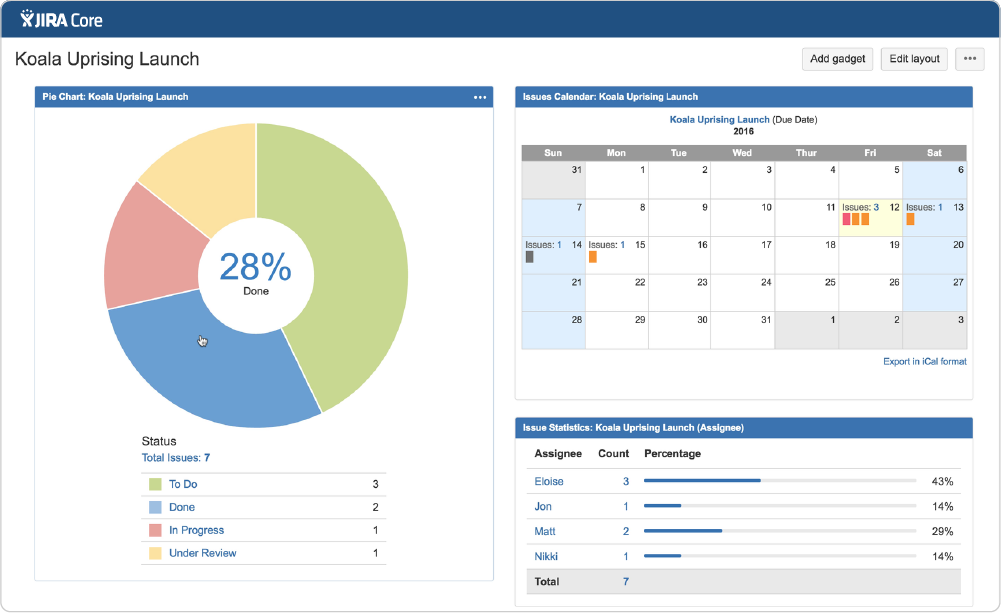 It's ideal for business project management, allowing teams that work on a wide range of projects to see all important information at a glance.
JIRA Software or JIRA Core: Questions to consider
Both JIRA Software and JIRA Core are such successful tools because they're built to boost productivity and collaboration. Both bring project and process management to teams, helping centralise work, with Kanban boards providing a simple, agile way to visualise workflows and the status of projects.
So what are the biggest differences? How do you know which will work best for your team? We suggest asking yourself – and the rest of your team – the following questions as a starting point.
1. How do your teams currently work?
Do the teams in your company use a number of different tools? Are they working with different processes? Do they understand each other?
Perhaps your dev team uses Atlassian tools like JIRA Software, Bitbucket and Bamboo for development, but teams across the rest of the business rely various other pieces of software from a range of vendors. In this case, JIRA Core is likely to be the better option. Because it's purpose-built for business teams, JIRA Core allows you to standardize the software your teams use across the entire organization but still give teams software at the right level for them. Its flexibility means it can be customized to the needs of each team, while they'll still be familiar with the tools other teams are using.
JIRA Software is often viewed as a tool just for software teams, with its heavy integration with developer tools; it means there can some resistance from other teams in adopting JIRA. JIRA Core negates this, and communication becomes much easier. It greatly reduces the need for multiple tools that are complicated to manage.
There's a direct, proven link here to improving the way teams collaborate. After all, 75% of job success is how about how people connect. When teams use the same tools, they begin to use a common language, and they understand each other better than ever.
2. What size are your teams? How fast will you grow?
With advances in technology, businesses are growing faster than ever, and not just in the tech world. With software built specifically to enhance team productivity and collaboration, all industries are seeing the benefits. It's one of the reasons JIRA is so popular, in development teams and beyond – it's designed to simplify and centralise work in and across teams.
Your rate of growth is something to consider when deciding between JIRA Core and JIRA Software. How big are your teams? How many teams will be using JIRA? How likely is that to change and grow in the future?
If you're looking for a tool to help you collaborate at scale, JIRA Software will suit your organization. It is available with an enterprise deployment option through Atlassian's Data Center offerings.
JIRA Software Data Center is designed for consistent performance and availability at scale. Data Center deployment means that instead of encountering performance issues when your user base or usage intensity grows quickly, JIRA Software will grow alongside you.
3. What levels of visibility do you require?
As previously mentioned, both JIRA Software and JIRA Core have a major impact on project management and productivity; they bring an added layer of visibility to teams.
By using the Kanban boards built into JIRA, teams can fully visualise their workflows and the status of their projects.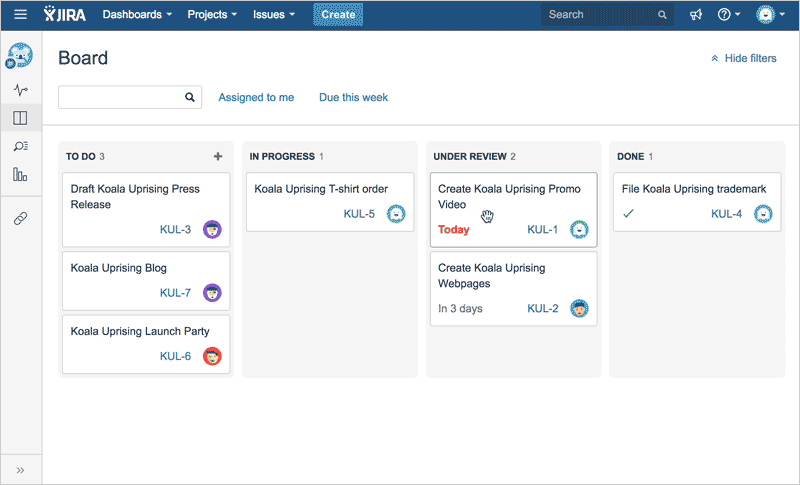 Visualization of what team members are working on and what status it is in (for example, to do, in progress, under review, done) is a great boost for team collaboration. Both JIRA Core and JIRA Software come with boards, meaning tasks, comments, changes and progress updates are all visible in one place.
It's an efficient way of working, but some teams require a higher, more detailed level of visibility.
This is where JIRA Software's Release Hub comes in. Designed to act as a single source of truth for software teams – somewhere they can track the status and progress of upcoming releases – the Release Hub in JIRA Software integrates with dev tools and brings those teams that need it a more detailed report at one glance.
JIRA Core on its own does offer reporting capabilities as well, with options for pre-defined reports and customizable dashboards, but the Release Hub is particularly suited to those working on more technical agile projects.
4. How much customization do you want to do?
One of the reasons JIRA is such a popular tool for so many teams is its flexibility. This can be a double-edged sword, however – when a product is extremely flexible, sometimes it requires a lot of configuration before teams can get the most out of it and really start seeing results.
JIRA Core comes with 3 pre-configured templates. These are designed to match the way businesses work, focusing on task management, project management, and process management, with customizable workflows to go with them. JIRA Core is ideal if you're looking to get up and running straight out of the box, but still want a tool flexible enough to be customized to your team's requirements.
5. Which features do you require?
Sometimes the choice boils down to the specific features your teams will require to carry out their work in the most efficient, productive manner. The following table from Atlassian offers a side by side comparison of the features in JIRA Core and those in JIRA Software.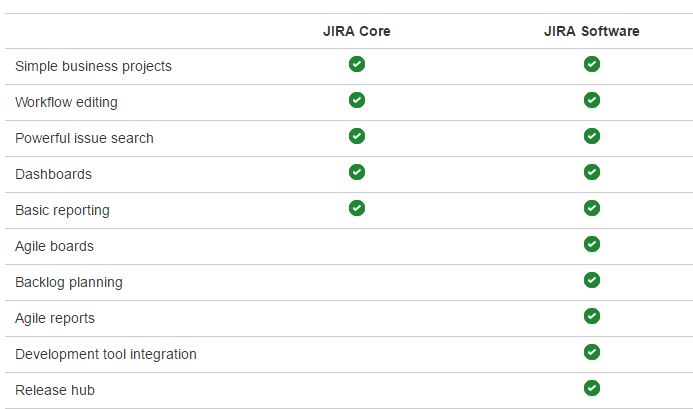 Getting started with JIRA
Whether you decide your team is better suited to JIRA Core or JIRA Software, it's always important to be sure your teams are familiar with best practice principles for the tools they use.
Download our free JIRA Basics white paper for a quick start guide to getting going with JIRA.
For a more detailed introduction to JIRA and how to get the most out of it, check out the wide range of JIRA training courses from the Atlassian Experts at Clearvision.
If you have any further enquiries about JIRA and business development then please get in touch.
Atlasssian expert resources
Visit our blog for expert news and articles from the Atlassian world. On our resources page you will find recorded webinars, white papers, podcasts, videos and more.
Read our blog for articles offering best practice advice written by Atlassian experts, as well as the latest news concerning your software.
Software White Papers and Guides
Dive deep into Atlassian software with our white papers and guides on individual tools, partner products, services, and best practices, written by the experts.
All of our webinars are pre-recorded and available to watch on-demand. Enjoy everything from partner features to application demos and updates from Atlassian experts.