Preparing for Incidents with Change Management
Want to know how your teams can get a grip on their service incidents? Come read how Change Management can help here: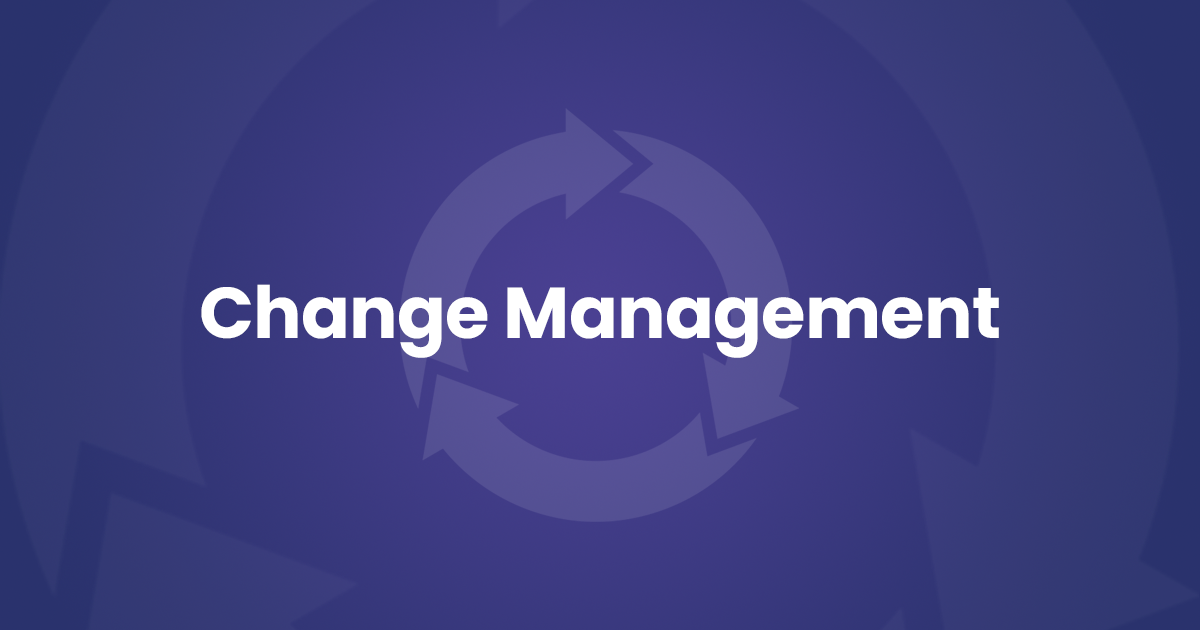 Dealing with incidents is always important, but your teams need to do more if they want to deliver value fast with their services. After all, what's the point of managing incidents if you know they will just pop up again in the future?
That's why teams are looking at ways to improve their services on a foundational level.
Enhance your services with Change management
Change management (or change enablement) is a service management practice designed to minimise disruptions by making baseline changes to your key IT systems and services.
These are the most common types of changes you'll see:
Standard changes – Pre-approved changes that are low risk, performed frequently, and follow a documented process.
Normal changes – Non-emergency changes that require further review and approval by the Change Advisory Board (CAB).
Emergency changes – Changes that arise from unexpected errors or threats that need to be addressed immediately.
See our Head of Products, Jake Churcher, explain these changes in more detail.
Note: While Clearvision is now a part of Eficode, the information found within this video is still relevant.
One of the best ways you can upgrade from a traditional change management process to a modern one is by utilising a centralised platform that unites ITSM and DevOps together. A perfect example of this would be Jira Service Management by Atlassian.
With Jira Service Management, your teams can:
Simplify the intake of changes with an intuitive service desk and automation for risk assessments and approval routing. 

Streamline workflows by integrating CI/CD tools like Bitbucket.

Use a knowledge base tool like Confluence for cross-functional planning, templates for change plans, and peer reviews.

Link change requests made in JSM directly to Jira Software for visibility and tracking of software-related work.
The Change management process
For high-velocity teams, Change management is shifting away from lengthy reviews and non-technical approvals and focusing more on automated, collaborative processes between IT and DevOps teams.
Here's a basic overview of a Change management process:
➡️ Change request
Someone requests a change and includes notes on possible risks, expected implementation, and affected systems.
➡️ Change request review
A change manager or peer reviewer analyses the initial change request. How likely is it to be successful? Are the risks and rewards accurate?
➡️ Change plan
The team creates a game plan for the changes and documents expected outcomes, resources, and methods of rolling back the change if required.
➡️ Change approval
The appropriate change manager, peer reviewer, or Change Advisory Board (CAB) reviews the plan and approves the change.
➡️ Change implementation
The team ships the change, documenting its procedures and results along the way.
➡️ Change closure
When appropriate, the change manager reviews and closes the change when appropriate.
Getting started with Change management in JSM
Use the native change management workflow
The IT service template in Jira Service Management comes with a change management workflow that ensures you record, assess, and implement change requests.
Set up enforced approvals
By default, any agent or admin can transition an issue through a review stage. But you can also enforce approvals by making it mandatory for a change issue to be reviewed by one or more specific team members.
To require approval for a request, you'll need to make sure the right fields are available and add an approval step to the relevant workflow status:
Use the default individual/group approval fields or create fields for entering approvers.

Add the approval step to a workflow status
Auto-approve standard changes
The IT service template comes with an automation rule that pre-approves change requests that have the Change type set to Standard.
You can disable or fine-tune this rule in your automation settings:
From your service project sidebar, select 'Project settings > Automation'.

Edit the rule named 'Auto-approve standard change requests'. 
Schedule changes with your change calendar
The Change calendar in Jira Service Management allows your team to schedule and view changes that are happening, reduce risk, and streamline your change management processes.
From the navigation on the left, select Change calendar to see the calendar. From here, you can:
See an overview of your scheduled change requests by Day, Week, or Month.

Select a time in the calendar to create a new change request.

View or edit the details of existing change requests.

Filter change requests on the calendar by service project, status, and affected service.

The best practices for your Change management
Streamline change request intake for IT, developer, and business teams
With a self-service portal for IT, software, and business teams, Jira Service Management offers a convenient way to intake infrastructure change requests. In this example, IT staff can easily choose from various change request types, such as pre-approved maintenance updates, or production system upgrades requiring further planning and review.
Adopt an automated risk model for changes
Request forms in Jira Service Management allow you to configure any questions and data needed to properly assess the risk of a change. Based on these responses, automation in Jira Service Management can be used to calculate the level of risk of each change request and set the appropriate risk value.
You can also use automation to:
Classify a change request as Standard, Normal, and Emergency, or by service tier and dependencies.

Route change requests into the right Jira workflow path, like pre-approvals for standard changes and additional workflows for high-risk normal changes.

Notify assigned stakeholders about high-risk changes that require further review.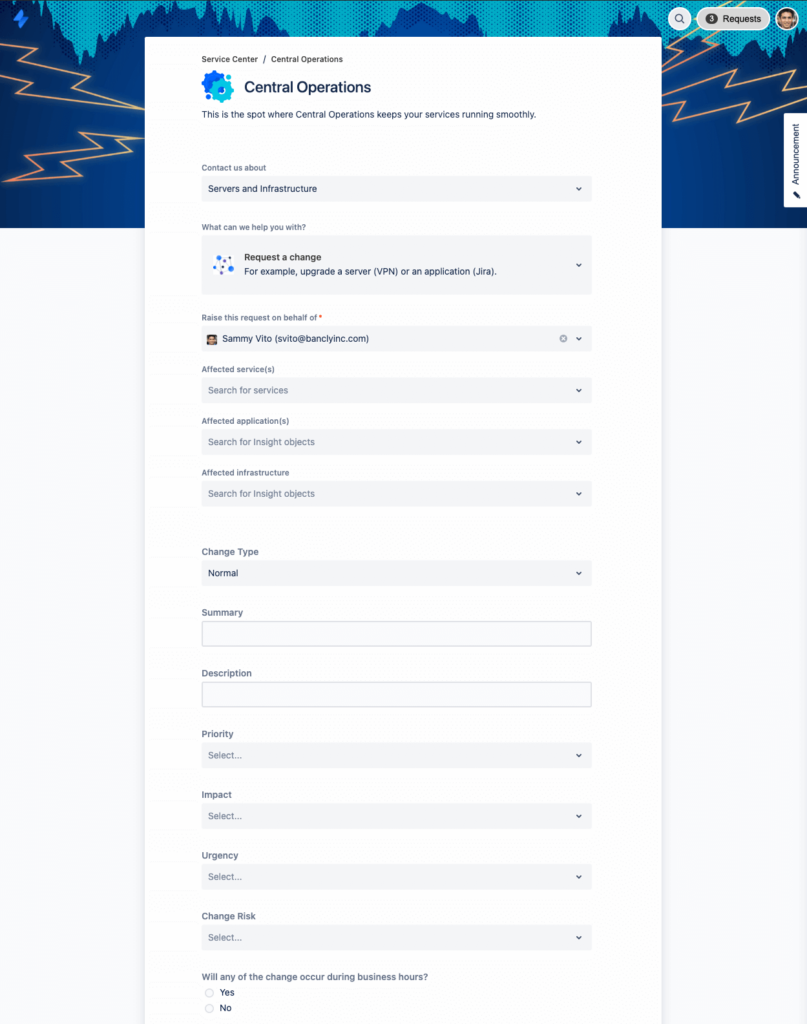 Create change requests automatically from your CI/CD tools
By integrating Jira Service Management with your CI/CD tools (Bitbucket Pipelines, Jenkins, etc), developers have a streamlined change management process right from the get-go in their existing workflows. Changes are automatically registered as requests in Jira Service Management, and a complete audit trail of changes deployed to production is possible.
Jira Service Management automatically pulls in the relevant information like change details directly from the CI/CD tool, impacted services, and change approvers — right in the change request. Change managers then have all the context they need to approve changes or request additional review.
Break down complex changes into smaller units of work
By dismantling complex changes into smaller units of work, your teams are able to control smaller changes much easier, which in turn moves them faster through the change process, reducing the level of risk. Confluence brings IT, staff, and stakeholders together by creating change documents as a team, providing feedback, and iterating in real time until the change is implemented.
For example, a team has broken a major change down into smaller tasks by using Jira to create issues, tasks, and changes right from the Confluence page and adding links to the change request for ease of tracking. Confluence then allows your teams to turn real-time collaboration into actionable work with ease.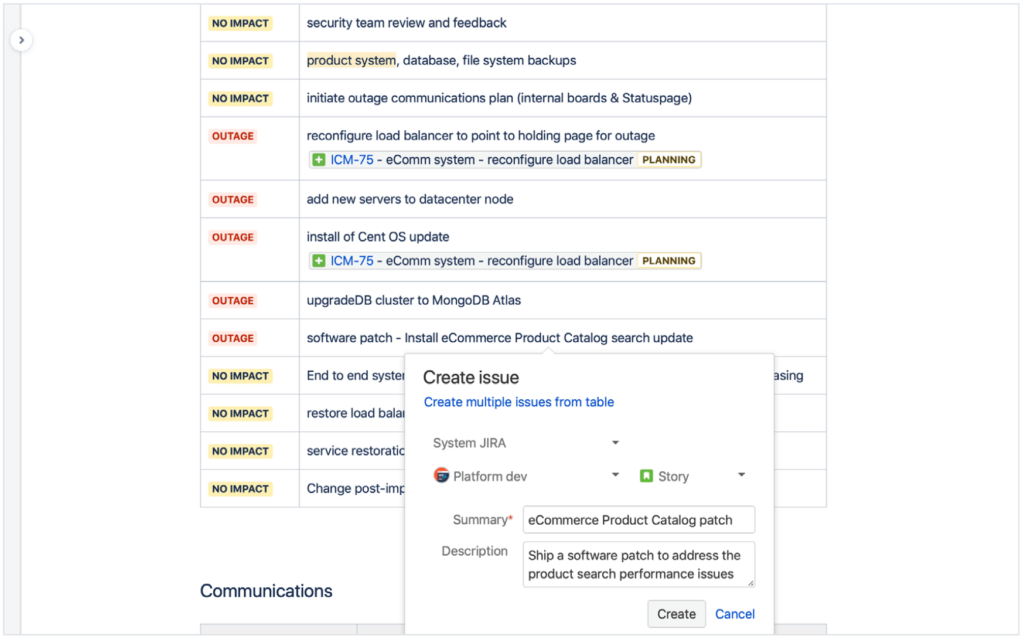 Unlock learning with change metrics and KPIs
To measure and learn from your changes, Jira Service Management provides out-of-the-box reports, along with the ability to build and share custom dashboards. Use Jira Service Management as a source of truth to bring together data across your changes, incidents, and services.
When measuring your change enablement performance, focus on metrics that unlock learning and improvements, and ask yourself:
Are changes realised in a timely and effective manner?

What is the impact of changes to services?
Are we meeting change-related governance and compliance requirements?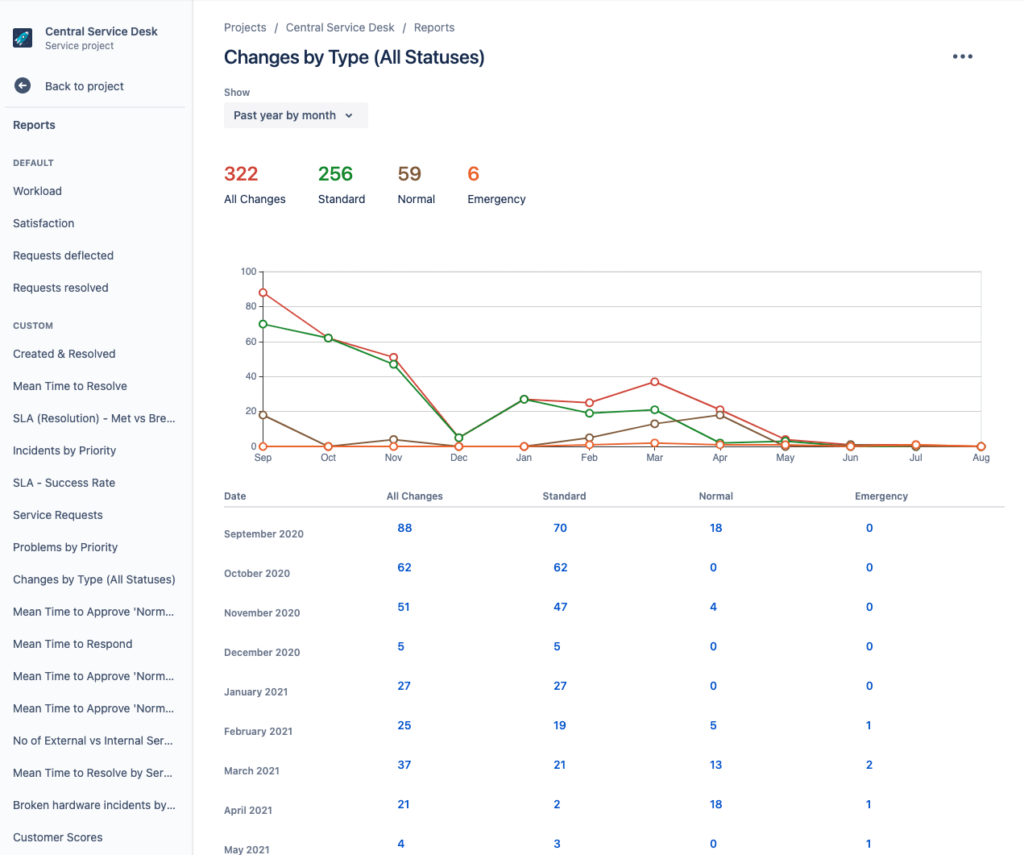 Editor's Note: This blog was originally written on November 24th, 2022 and updated (since March 2023) with new information/corrections.
Share this blog post on your social.
Visit our blog for expert news and articles from the Atlassian world. On our resources page you will find recorded webinars, white papers, podcasts, videos and more.
Atlassian named a Leader in Enterprise Service Management
Atlassian has been named a Leader in the Forrester WaveTM: Enterprise Service Management, Q4 2021 for Jira Service Management!
The Future of ITSM is Agile
Atlassian and AXELOS (the author of ITIL® Foundation) partnered to help kickstart your journey to agile with ITIL 4 – here's the guide.
Preparing for Incidents with Change Management
Want to know how your teams can get a grip on their service incidents? Come read how Change Management can help here: