The Evolution of Jira Service Management and ITSM
When Atlassian launched Jira Service Desk in 2013, it was nothing more than an add-on to the platform. Over time, it became its own standalone product. In this blog post, we explore how it has changed and what's to come.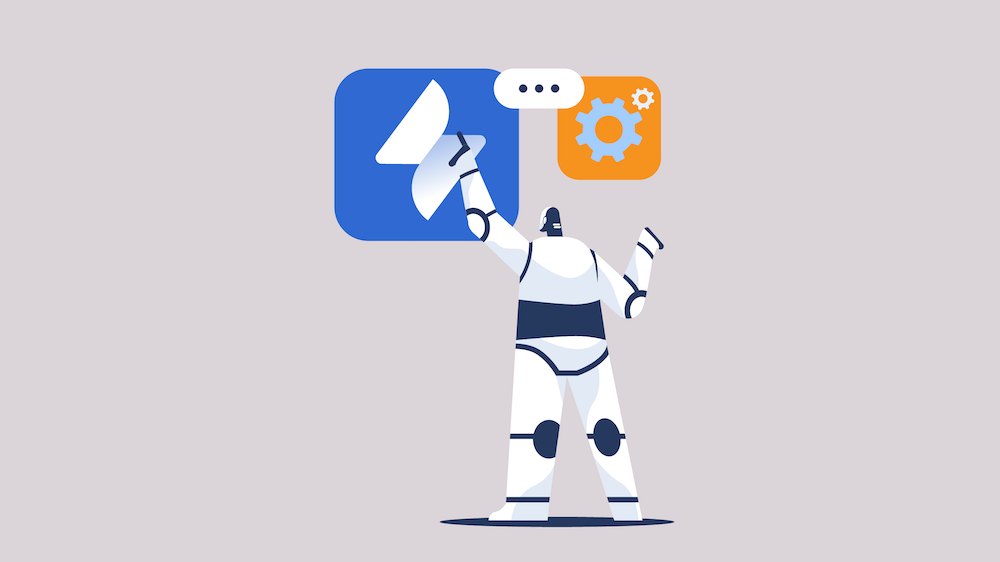 Jira Service Desk (JSD), now Jira Service Management (JSM), was created by Atlassian after research showed customers using Marketplace apps to turn their software projects into a makeshift service desk for internal users. After recognising their power, Atlassian used these apps to create the groundwork for Jira Service Desk as we know it today.
JSD offered familiarity to users. It utilised the power of Jira's core platform with workflows and custom fields to provide an adaptable, bespoke platform to suit different ways of working. Not long after, Pink Elephant verified JSD as having the capability to house the four main processes of ITIL – Incident, Problem, Request, and Change Management. JSD also brought native no-code automations to the application for the first time.
JSD provided the opportunity for service desk teams to deflect tickets with a knowledge base. Linking to a Confluence space allowed agents to label Confluence pages with keywords so they would show on the portal as customers were creating requests. Similarly, agents could respond to tickets with links to these articles to resolve requests quicker by pointing the customer in the right direction.
Following the launch of the product, Marketplace vendors were keen to add to the functionality of JSD with new apps. This led to the development of some of the best apps known today, such as Insight Asset Management, ProForma for Jira, and Deviniti's Cross Project Queues and Extensions for JSD. Insight gave JSD the ability to offer a fifth common process in the ITIL framework. ProForma added the ability to dynamically adapt request forms, whilst the Cross Project Queues allowed teams to easily manage multiple projects from a single pane of glass. Alongside these focused apps, Automation for Jira (A4J) became an essential part of any service desk due to its powerful no-code automation abilities. A4J allowed admins to configure rules for almost anything; the most common being automated approvals, creating scheduled tickets, editing issues or sending webhooks/messages to external applications like Slack or Teams.
Skip forward a few years and Atlassian developed its Cloud platform, acquiring several companies to aid this. Opsgenie, an alert and event management application was bought in September 2018, followed by Halp, a ChatOps service desk app in May 2020 and finally, Insight Asset Management in August 2020.
Atlassian first saw the benefits of a combined single application for all ITSM tools with JiraOps. JiraOps was a half-and-half measure of Opsgenie and JSD. While this may not have stayed around long, it showed the true benefit of a single service management application that gave agents a single efficient application to work from while the tools did the leg work behind the scenes.

which allows agents to action tickets right from the queue. Also, the new issue view, which has created a slicker Jira ticket UI, allowing agents to see the most relevant information of an issue without being overwhelmed.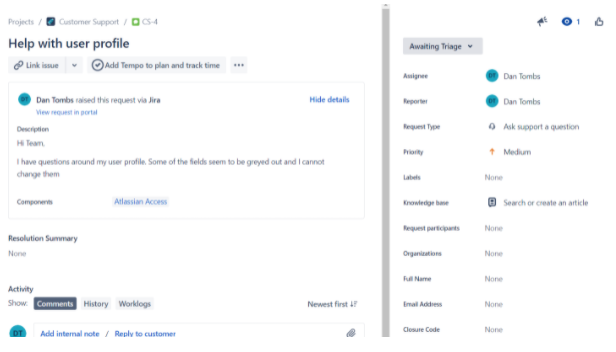 A4J has become native functionality in Jira and has continued to develop new actions and integrations. Opsgenie's features like schedules, services, and major incident management are now available in JSM.

Insight Asset Management has become integrated, resulting in an easier setup between Insight and service projects by allowing easier custom field creation and displaying the Insight objects on the linked tickets more clearly. Insight queries are also now part of JQL, bringing the whole search under one roof.
Atlassian acquired ThinkTilt, the maker of ProForma, in April 2021. The dynamic forms and vast library of templates will enable service managers to quickly create and work with requests. Request forms enable agents to efficiently receive all of the information required from the customer in order to complete an item of work. Dynamic forms aid agents in the collection of information for more complex requests whilst removing the need for additional custom fields. They also keep request forms clean and guide the customer through the relevant parts.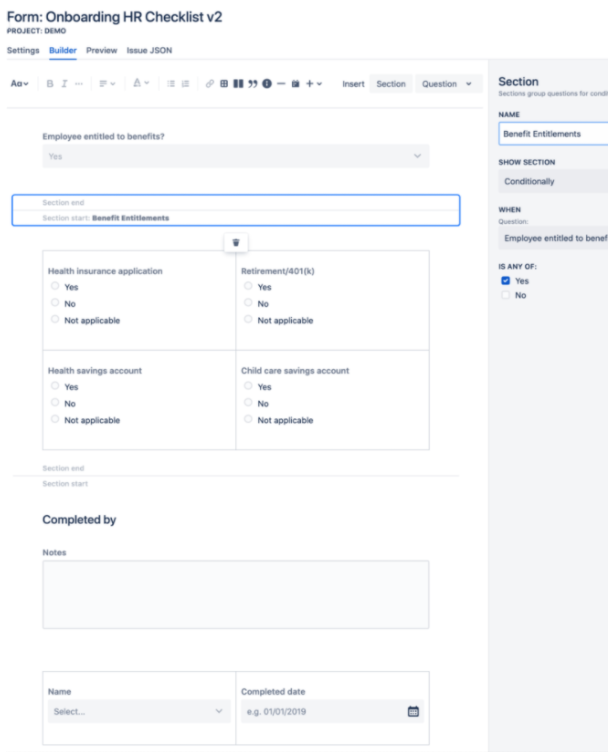 Atlassian has continued to improve integrations with its other products and third-party applications. With Confluence, you can now have multiple knowledge bases feeding into the same service project. This allows different pools of knowledge that may be owned and maintained by multiple teams to service users on the same portal. Atlassian has also strengthened the link with GitHub, GitLab, and of course, Bitbucket. The improved integration provides a more seamless development change process with auto approvals. The development platforms also saw improvements from Opsgenie, so that when incidents occur, you can look over your release timeline for the affected service and see what may have caused it. This information, with the inclusion of Opsgenie's services and major incident management, has therefore been rolled out to the new JSM projects.
A simple yet effective integration is the Halp ChatOps tool, which allows Slack messages to be converted into tickets through the use of emojis. The next time a colleague Slacks you instead of raising a ticket, you can convert it and keep it up to date with comments using a thread. You can even create internal comments for other agents by using a 🔒 emoji, and finally, resolve the ticket with a ✔ . While many service managers encourage the use of the portal as it can help with ticket deflection and the collection of vital data, we just cannot get away from those pesky side messages to agents.
Enough of the now, what's coming up? Let's review the Atlassian roadmap for JSM.
Changes
A long-awaited native change calendar is coming to JSM. Currently, users are reliant on apps like Team Calendars, or the simple issues calendar gadget, which is expensive and limited in what it shows. But soon, you will have the ability to properly show and plan changes around each other and change freezes or any other factors that may occur in your business.
Apps
ProForma's advanced dynamic form creation technology will become native to the Cloud platform and massively improve form capabilities and customer experiences in the portal.

The Halp and JSM integration will continue to see improvements, such as the ability to use portal forms when creating requests, which will ensure users can capture all relevant data to solve issues faster.

Currently, Insight is just the core platform, and while this is powerful (especially with the latest addition of .csv file importation and exportation), you will soon have integrations to Cloud platforms like Azure, Google Cloud, and AWS. These integrations and the full migration plan for Insight expected September 2021, will mean the Insight Cloud version will finally be as powerful as its on-premise counterpart.

Atlassian has also announced it will continue to improve the deployment based incident integration with the likes of GitLab and Bamboo.
Approvals
This long-awaited feature will give agents the ability to sync approvals to user groups rather than single-user fields, thus continuing the improvement of user management and reducing tool maintenance.
Jira Service Management is maturing and has come a long way since its conception as JSD. Acquisitions and deep standalone integrations confirm Atlassian's commitment to continuously improve the platform. It has greater flexibility to adapt to every company's requirements, while providing the best opportunity for new businesses to get started with Pink Elephant's verified processes. Atlassian is developing features to integrate all of its applications into one view to provide a powerful single pane of glass for agents, with the aim of making it more efficient by having less context switching between apps. JSM continues to be a strong competitor within the industry and the implementation of the upcoming roadmap will only advance Atlassian's success.
Keep up to date with the latest Clearvision blog.
Our blog posts cover a wide range of topics from the latest software news to the latest in the Atlassian world. 
Search through our white papers and guides.
We have a wealth of expertise to share with you in our white papers and guides. 
Watch our webinars on everything from JSM, JWM, Atlassian tools and more.