Using Templates in Jira Service Management
Want to learn how using pre-built templates in Jira Service Management can help supercharge your workflows? Find out more here: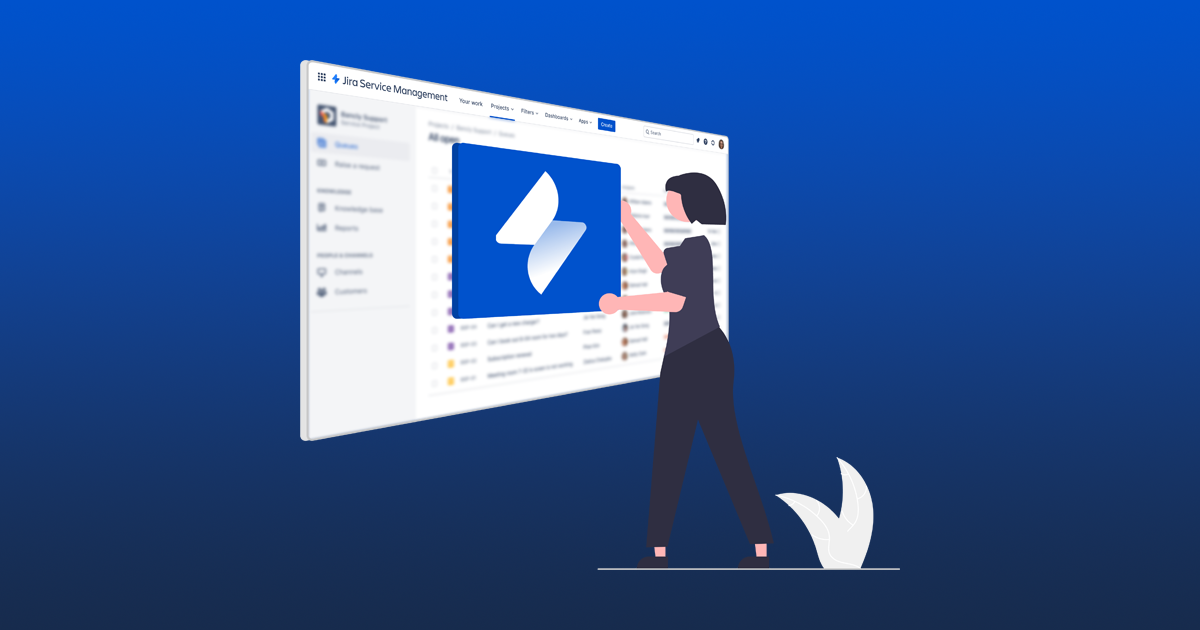 With technology evolving at a rapid pace, customers today expect their services to be delivered quickly and efficiently, without comprising on quality. As you can imagine, this proves to be quite a challenge for IT teams, who now find themselves needing a more flexible ITSM solution to help address this issue.
Atlassian knows this pain all too well, which is why they've built Jira Service Management from the ground up to help IT teams suffering from this same issue enhance their IT Service Management.
With Jira Service Management, your teams can deliver value faster by meeting your unique needs, without affecting the quality of the work done. And one of the best ways Jira Service Management does this is through the use of pre-built templates.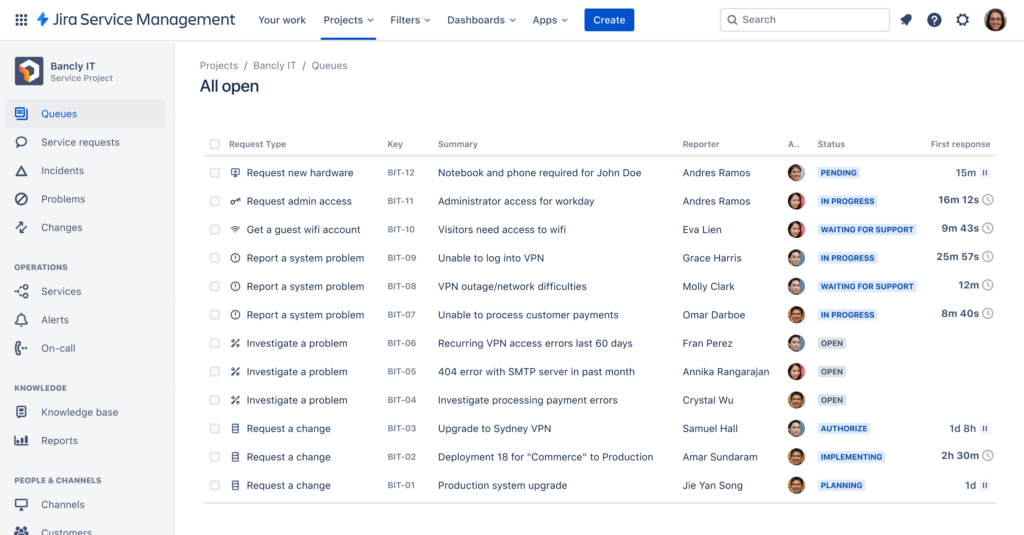 Designed specifically for IT teams, the IT Service Management template unlocks High-Velocity Service Management and includes features dedicated to critical ITSM practices, meaning you can respond to requests, resolve incidents, address problems, and deploy changes faster.
Here's how to get started with it:
Respond to services quickly!
Based on the best ITIL practices, this template is designed to help you work more effectively across teams to fulfil service requests faster than ever.


Track and approve changes!
Break down barriers with development teams and speed up workflows by automating changes.


Resolve incidents faster!
Collaborate on and resolve incidents faster than ever with one-click escalations. For critical issues, use on-call scheduling, alerts, incident swarming and more to give the right people all the information they need to take action.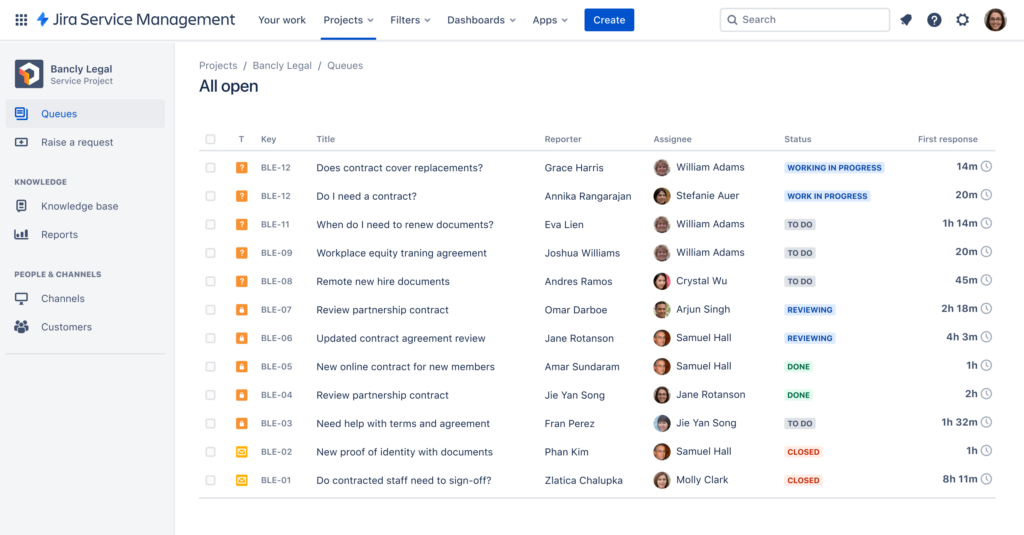 The Legal Service Management template is designed to help streamline stakeholder management by allowing you to manage your contracts in one place. Easily transition through stages of the contract cycle using legal request types and workflows, or customise them to create a new template for your team's legal processes.
Here's how to get started with it:
Collaborate with ease!
Manage employee legal requests in one central location. Your internal service desk makes it easier for employees to submit requests and for your team to manage them.


Keep contracts moving smoothly!
Create clear end-to-end workflows to track contract review requests, and modify them to suit your team's unique systems and processes.


Resolve requests faster!
Create automated approvals for simple tasks like issuing standard notices and sending letters that don't require human intervention.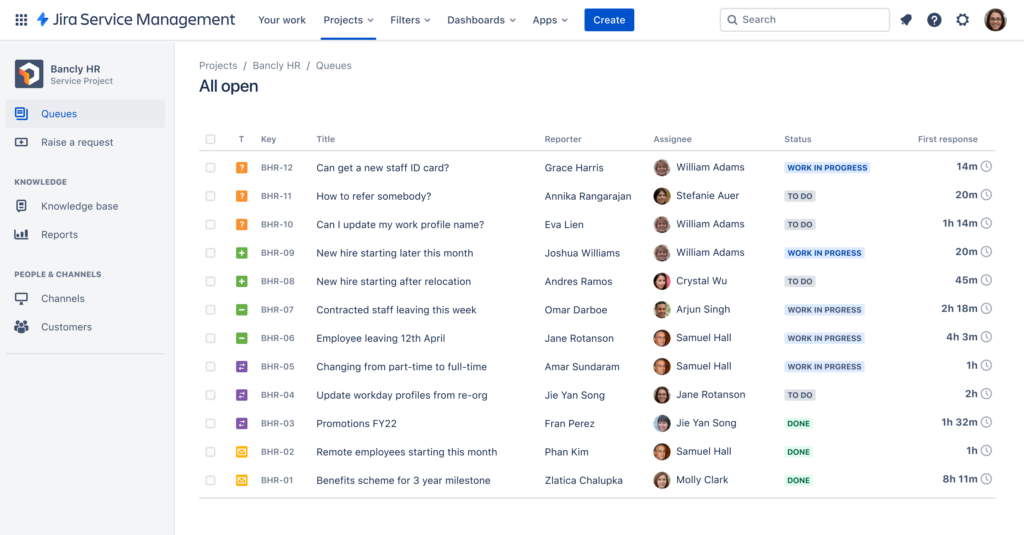 The Human Resources Service Management template is designed to help HR teams stay on top of and manage all their service demands. Never miss a thing with a queue that brings together requests from email, chat tools, your portals and other channels, for full visibility of payroll, onboarding, requests, general inquiries, and other HR services.
Here's how to get started with it:
Onboard and offboard employees efficiently!
Manage staff comings and goings as a team with a central tool that helps you collaborate with IT, finance, payroll, facilities and other teams to create a smooth employee experience.


Protect sensitive information with HR case management!
Manage security and maintain confidentiality around requests. Create a safe space to document and track confidential employee relations cases, and use permissions to define who can view, find, and comment on requests.


Facilitate self-service!
Help your staff find answers to common questions using a service portal. Set up a knowledge base using Confluence to show relevant articles and help answer inquiries.
Facilities Service Management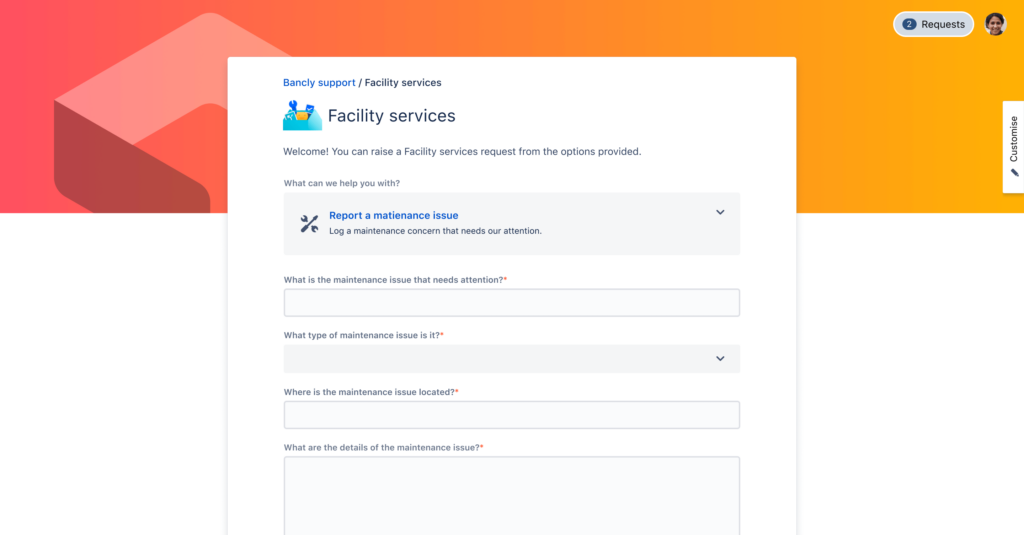 The Facilities Service Management template provides teams with a central place to capture maintenance requests, organise room bookings, handle equipment requests, manage desk moves or plan events. Request types and workflows simplify communication between facilities teams and other employees, so they can manage complex changes.
Here's how to get started with it:
Find help in a central location!
Give your employees one place to go to facilitate desk moves, event planning, and equipment requests.


Get a handle on drips and slips!
Give your employees a central place to log maintenance issues to reduce workplace hazards. Inform your employees of any critical hazards by adding a message to your employee-facing portal.


Demonstrate your team's value!
Take action on requests quickly, and accurately report on progress to celebrate your team and improve your service.
Customer Service Management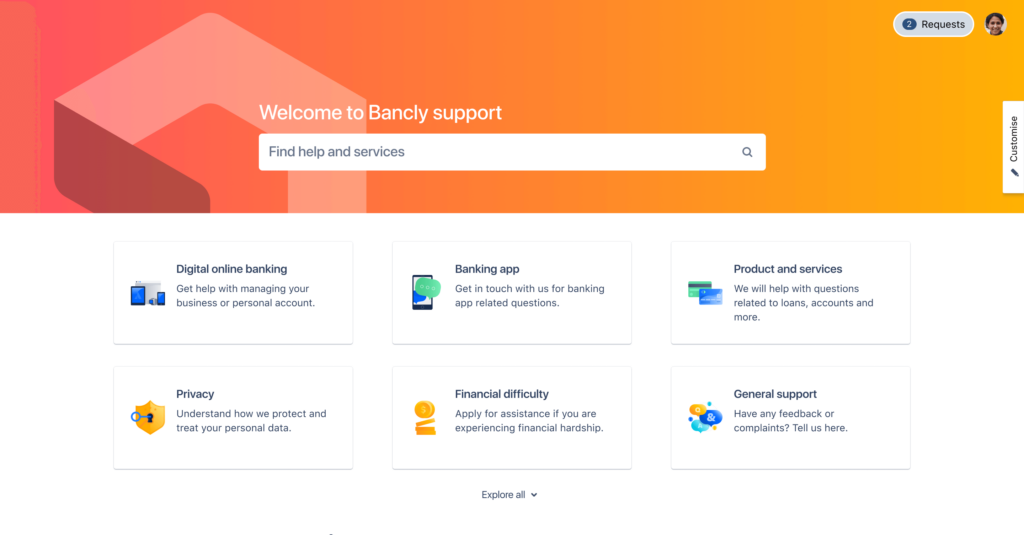 The Customer Service Management template is designed to help teams efficiently deliver great service experiences to their customers. Set SLAs, answer customer questions, prioritize requests and collect feedback to ensure your external customers or business partners can quickly get the help they need.
Here's how to get started with it:
Bring your brand to your portal!
Give customers a seamless experience from start to finish with a simple, branded, and intuitive portal that makes it easy for them to get help quickly, and enables your teams to streamline incoming work.


Optimise your queue!
Your queue brings together requests from email, chat tools, your service project, and other channels to help you track, triage, and assign incoming requests.


Improve customer satisfaction!
Measure customer satisfaction and improve the service experience with Service Level Agreements (SLAs).
General Service Management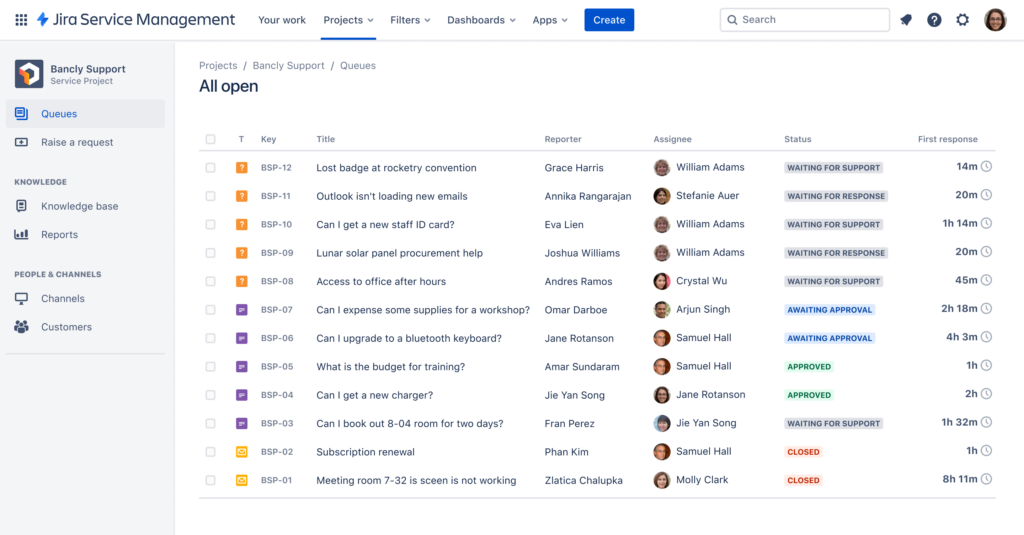 Deliver great service experiences fast with a service desk. Give your employees a central location to log requests, get the answers they need, and access self-service articles linked to your request forms.
Here's how to get started with it:
A single portal for service requests!
Provide one place for employees to get help. Set up a knowledge base using Confluence to help employees find answers to common questions without having to engage a support agent.


Handle incoming work with ease!
Your queues bring requests from email, chat tools, your help centre, and other channels into one central location, making it easy for any team to track, triage and assign incoming work.


Demonstrate your value!
Dive into customer satisfaction reports to quantify the value your team brings to the organisation.
By using these templates, all your teams need to do is fill in the information inside the forms and push them out. By simplifying the process of filling in forms like this, it saves your teams precious time and resources that can be better spent on the work that really matters.
Customise your workflow with Advanced Forms!
Most of the time, your teams will want to set up their service desks in such a way that your customers can just fill out a simple form and file it straight to where it needs to go. But for the more complicated use cases like Legal, Facilities or Change Enablement, the forms used here need to be a lot more dynamic and feature-rich.
And that is where Advanced Forms come in. With over 300 pre-built template forms to choose from (including over 70 for IT alone), Advanced Forms ensures that the forms your customers are filling in are asking the right questions for those specific cases. And at the end of the day, there's always the option for your teams to edit them to include any key information that the templates don't already provide.
If you'd like to find out more about Jira Service Management and how using its pre-built templates can help your business, please sign up for our webinar series, High-Velocity Service Management.
Watch this video to learn how templates in Jira Service Management can help you.
Share this blog post on your social.
Visit our blog for expert news and articles from the Atlassian world. On our resources page you will find recorded webinars, white papers, podcasts, videos and more.
Read our blog for articles offering best practice advice written by Atlassian experts, as well as the latest news concerning your software.
Software White Papers and Guides
Dive deep into Atlassian software with our white papers and guides on individual tools, partner products, services, and best practices, written by the experts.
All of our webinars are pre-recorded and available to watch on-demand. Enjoy everything from partner features to application demos and updates from Atlassian experts.