5 Best Practice Tips For JIRA Admins
These 5 key points will help you, dear JIRA Admin, whilst you jostle with JIRA in your own work environments. Read our free blog here.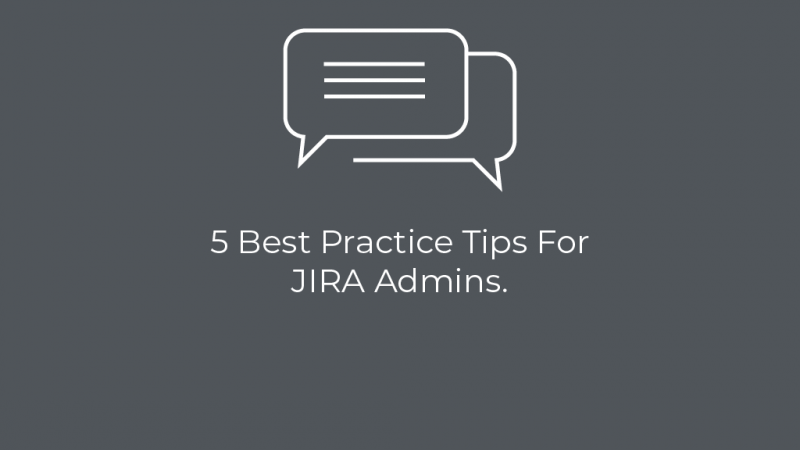 Following the success of Clearvision's latest JIRA best practices webinar, we wanted to follow up with some more useful tips for JIRA Admins. So here are 5 key points to consider whilst you jostle with JIRA in your own work environments.
Some of these may seem obvious in theory. However through experience we know that sometimes you need to go back to basics, especially when it comes to supporting company infrastructure.
If it ain't broken don't fix it right?! Wrong. Consider these 5 key points to be proactive in preventing future failings. They may just flag up a potential iceberg right ahead!

1. Planning – When implementing JIRA you should consider future use and integrations within your company. Planning ahead is crucial. Address and have contingency for future bottlenecks before they occur.
Do this by knowing your servers limitations when it comes to performance. If you are aware it is on its way out, how will your servers cope if you employ more staff requiring the use of the system?!
Now I know this is not always possible with the ever changing world we live in, with buyouts and mergers happening on a daily basis. But capacity tests are a very useful tool to prevent worst case scenarios occurring to your JIRA instance.
Frighteningly this is something a whopping 87% of participants on our webinar were not undertaking!

2. Documenting – Having a test environment is crucial to any company network and for JIRA this is no different. In our webinar we ran a poll which highlighted this issue with 32% of the participants not having a test environment!
Test environments are a must-have for testing changes in JIRA fields, permission checks and workflows. From this you can then carefully document any effects the changes have on system performance.
We also recommend regularly monitoring your log files and database performance to document any changes that can occur over time. You may find that if you are adding 1,000 issues a week and your system can only handle 10,000, and that in 10 weeks you may face performance issues.

3. Tuning – Remember to always fine tune your JIRA system. If there are old staff members who may have moved on to pastures new, such as Jack the Jester who is still remembered for his crazy japes & stories, it's probably time to remove him as a user on your system.
Redundant users mean wasted licenses and will cost you money as well as having a negative impact on the performance of your system.
Don't be afraid to archive older projects within JIRA either. This can be done in a couple of ways either 'Online', by making projects read-only or hidden, or taken 'Offline' by utilising XML backups to be stored elsewhere.

4. Simplifying – Did you know that Custom fields are the #1 cause of performance degradation within JIRA? Every time a screen is loaded JIRA has to load custom fields into it. To prevent this degradation occurring utilise screen schemes – you may just be shocked to see the difference in loading speeds that can occur as your user tally grows.
Another consideration to be used only if your JIRA instanced is accessed behind a firewall is to replace 'Jira-users' with 'anyone' as this will reduce the number of security checks taking place every time a user logs into the system.

5. Standardising – As a best practice we advise the use of project roles within JIRA wherever possible to allow the use of fewer permission schemes. Second only to custom fields these are a major cause of JIRA systems degradation.
Last but by no means least, we recommend trying to re-use schemes and workflows. The more that are standardised across the whole system, the less features there are and fewer screens & fields to be loaded every time an issue is created, edited or closed.
For a much more in-depth approach to JIRA best practice check out our JIRA Training Courses.
Atlasssian expert resources
Visit our blog for expert news and articles from the Atlassian world. On our resources page you will find recorded webinars, white papers, podcasts, videos and more.
Read our blog for articles offering best practice advice written by Atlassian experts, as well as the latest news concerning your software.
Software White Papers and Guides
Dive deep into Atlassian software with our white papers and guides on individual tools, partner products, services, and best practices, written by the experts.
All of our webinars are pre-recorded and available to watch on-demand. Enjoy everything from partner features to application demos and updates from Atlassian experts.