5 Things I've Learned as an Apprentice Software Developer
From day one at Clearvision I was thrown in at the deep end. Luckily I'm a strong swimmer. I started as an apprentice software developer over 7 months ago and it's been an excellent experience.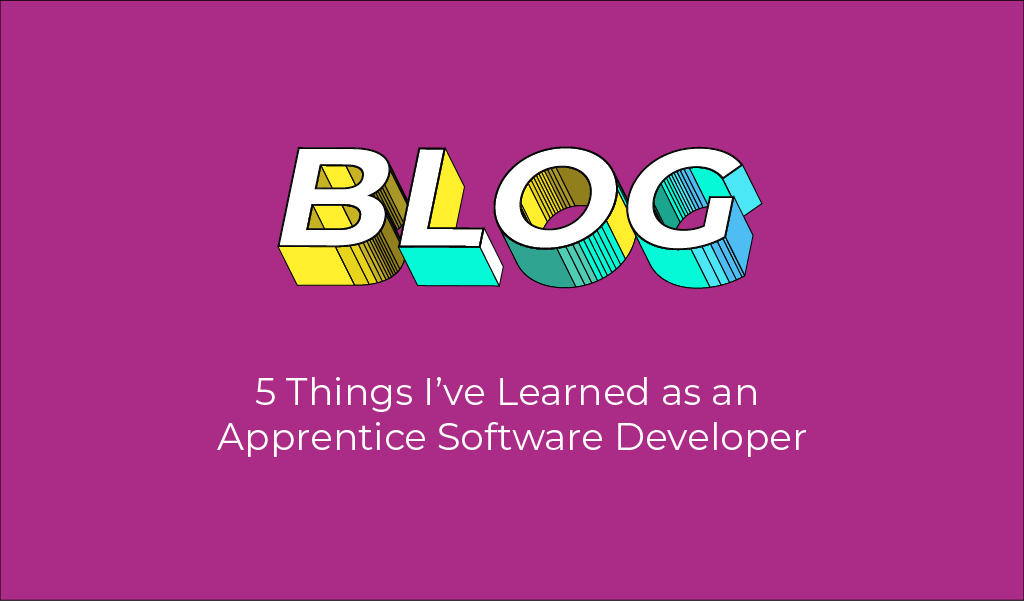 Initially I visited the company for a brief introduction to the kind of software they produce. I explained that I'd been teaching myself to code for just over three years, but I knew I was heading into a complex semi-alien world and was unsure of how my next year would play out.
7 months on and I've had roles in the web team, met client needs, produced plugins and, more recently, began helping to bring Clearvision's flagship product, Spectrum, over to a new technology. It's certainly not over, but I've picked up a few truths along the way…
1. Software Developers are Social Creatures
As shocking as it may be, agile teams are very social units. Every day I interact with colleagues socially and professionally to meet the goals of our work. Very rarely have I escaped to my own little world and just coded all day – and the activity in the office keeps me going when I'm tired or confused.
2. Software involves Multiple Disciplines
As a developer; you can rarely focus just on the task before you. The interests of every department feed into the task, and there are many different goals to meet.
I've spent a lot of time researching, documenting, and experimenting in effort to meet goals. I've had to take marketing messages into consideration, matching and improving upon Clearvision's brand.
Developing software is often not just about creating software.
3. Software is an Expanding Universe
I've encountered so many new technologies, applications and libraries that I'd never be able to list them. Often, there are many solutions to a problem and my goal has been to find the most suitable one – or in cases where tool and documentation quality is not ideal – find a path to a new solution. There are endless potential avenues for a given solution, and endless programmers to tell you how they did it.
4. Testing is King
My first week at Clearvision was spent aiding the test team. Here, I learned that testing software is not only the responsibility of the tester, but also of the developer.
The code you write should be clean enough that tests can run reliably, and sometimes writing software means writing automated tests, too. Testing forms part of all stages of development, from planning to release.
5. Apprenticeships Open Doors to the Industry and Academia
The apprenticeship has been my first opportunity to test-drive a career that I've always wanted, and it's been a rewarding and satisfying experience.
If you're considering an apprenticeship in software, it's important to know from the get-go what your core skill set and interests are – this will help you to find a role that suits you best and to get the most out of the experience.
It's also worth considering that an apprenticeship is not just a direct gateway to employment; the course you take will tailor to suit your needs and meet whatever goals you may have.
My hope when I started out was to eventually study computer science at university. The apprenticeship opens this door for me by providing the experience, references and endorsements that could result in immediate placement.
My preferred path, however, involves taking on the Higher National Diploma once my apprenticeship is up. This is an extra qualification that's considered equivalent to a second-year degree course, and usually results in a placement in university.
This path gives me an extra year to collect more experience and ultimately make decisions about my future – and whatever your goals are, an apprenticeship can be a portal to many possibilities in meeting them.
One of the first things I did at Clearvision was to set up a LinkedIn profile. I'd not heard of it before, but this along with many other social or professional networking platforms play a huge role in making contacts and connecting with professionals in the field.
It's especially important in the software world to have some form of online presence and examples of what you do, as skill sets are extremely diverse.
For me, this is just the beginning, and the training I've received has opened many doors for my future and enabled me to start swimming in the deep end of software development. From time to time however, I do wish I had a life-buoy.
If you're interested in joining Clearvision check out their Careers page.
Atlasssian expert resources
Visit our blog for expert news and articles from the Atlassian world. On our resources page you will find recorded webinars, white papers, podcasts, videos and more.
Read our blog for articles offering best practice advice written by Atlassian experts, as well as the latest news concerning your software.
Software White Papers and Guides
Dive deep into Atlassian software with our white papers and guides on individual tools, partner products, services, and best practices, written by the experts.
All of our webinars are pre-recorded and available to watch on-demand. Enjoy everything from partner features to application demos and updates from Atlassian experts.