Atlassian Named As A Leader In Gartner Magic Quadrant
We look at how and why Atlassian has been awarded this latest accolade.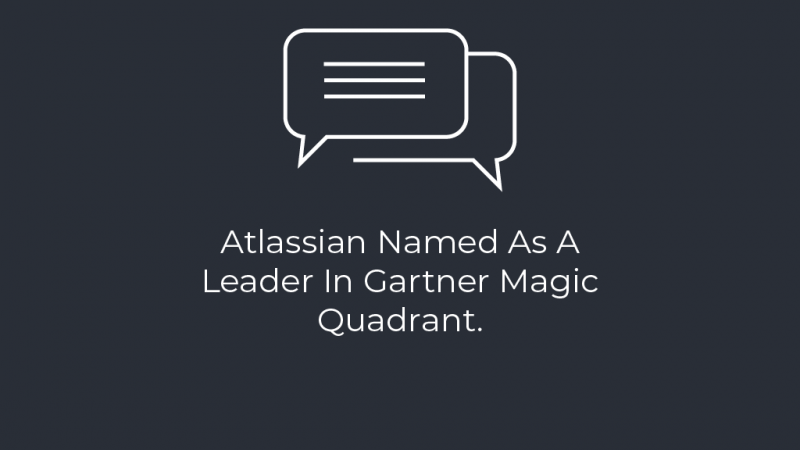 Gartner, a renowned IT research and advisory firm, has identified Atlassian as a leader in its 2017 Magic Quadrant for Enterprise Agile Planning Tools.
Every year, Gartner releases a series of reports, based around these graphical representations of market positions, indicating where the major players in a particular field lie in relation to each other. Various criteria are used, which fall under two main qualities: Ability To Execute and Completeness Of Vision.
In this case, Atlassian has been recognised for its ADLM (application development life cycle management) tools, which Gartner describes as "a comprehensive solution for running both agile and traditional projects". Although these can be used in various industries, this particular Magic Quandrant is focused on software development.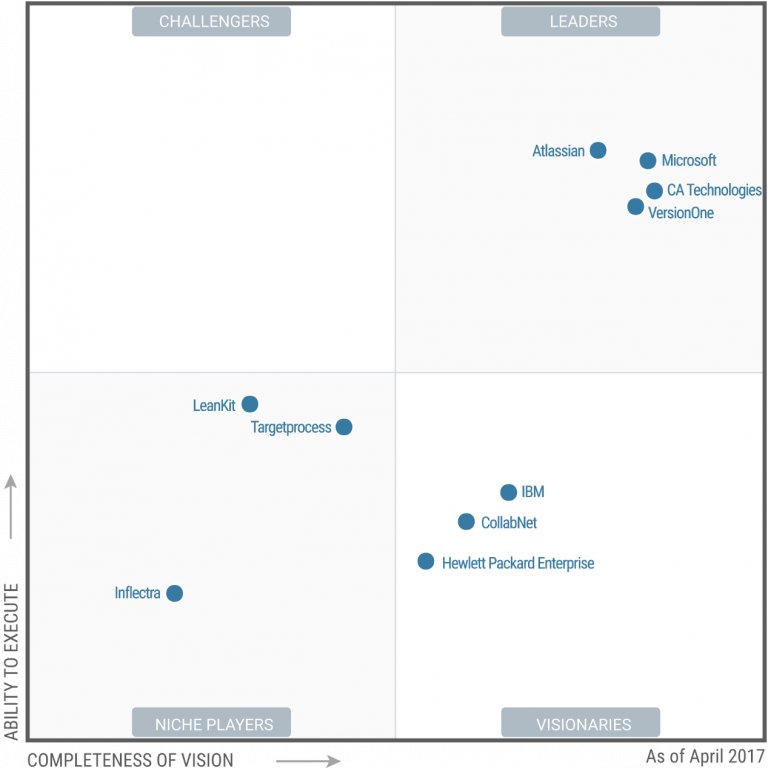 As you can see, Atlassian sits in the 'Leader' section of the quadrant, alongside Microsoft, CA Technologies and VersionOne. It's placed in this lofty position thanks to its achievements in facilitating enterprise-class agile development (EAD) – a significant point, because, as Gartner says in the report, the adoption of agile methodology is becoming mainstream.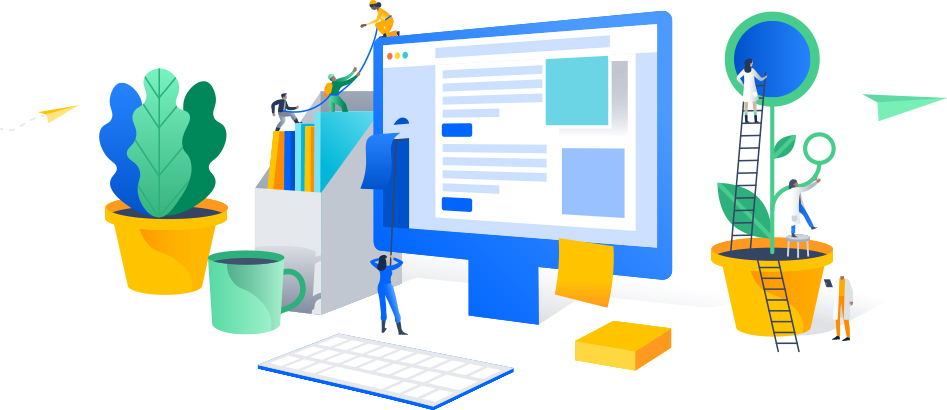 Gartner also states that "The increasing adoption of a DevOps strategy means that a parallel strategic commitment to agile is required" and "By 2020, enterprise agile planning tools will become the foundation of DevOps toolchains, enabling coherent and comprehensive planning and deployment of product solutions."
If this prediction proves correct, then this honour bodes well for the future. Not only is it a good sign that Atlassian has expertly positioned itself in the development arena, but it shows that the company's focus on collaboration, integration and planning are only going to become more important as DevOps becomes more widespread.
Here, in full, is how Gartner defines Leaders, and it's easy to see how Atlassian fits this description:
"Leaders in this market have shown a combination of strong vision either in leading agile thought or the combination of agile with developer collaboration and DevOps. Leaders have broad market reach and adoption, as shown in client inquiries and survey data as well as their corresponding growth and market presence. Vendors in this category are safe bets for large-scale adoption, and we expect them to have a continued solid market presence. Leaders tend to have established marketplaces that provide them with extended functionality via partners. All have strong integration capability. They have strong networks for training and implementation, and can operate well globally."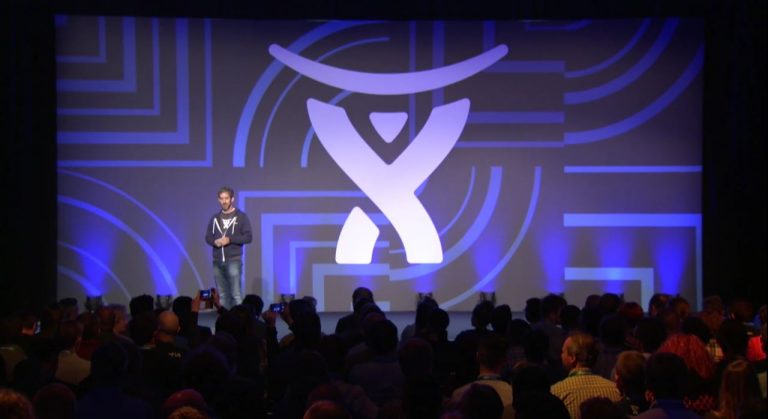 In constructing this Magic Quadrant, Gartner identified the key strengths of each company, whether they were considered a Challenger, Niche Player, Visionary or, indeed, a Leader.
So what are the strengths that Gartner sees in Atlassian? Well, to start with, JIRA Software is namechecked for its strong developer adoption, because "it is simple to adopt and flexible".
Next, the Atlassian Marketplace is given the nod, because it enables Atlassian to "focus on core functionality while enabling support for diverse use cases via partners."
Then Atlassian's collaborative features are highlighted, with HipChat, Confluence and Trello all given as examples.
Finally, Gartner says that "Solid support for Git and continuous integration via Bitbucket position Atlassian well for organizations implementing DevOps practices."
Of course, these are just a few of the best qualities of Atlassian's tools but, nevertheless, they provide a handy overview of what these apps do and how they've transformed enterprise solutions.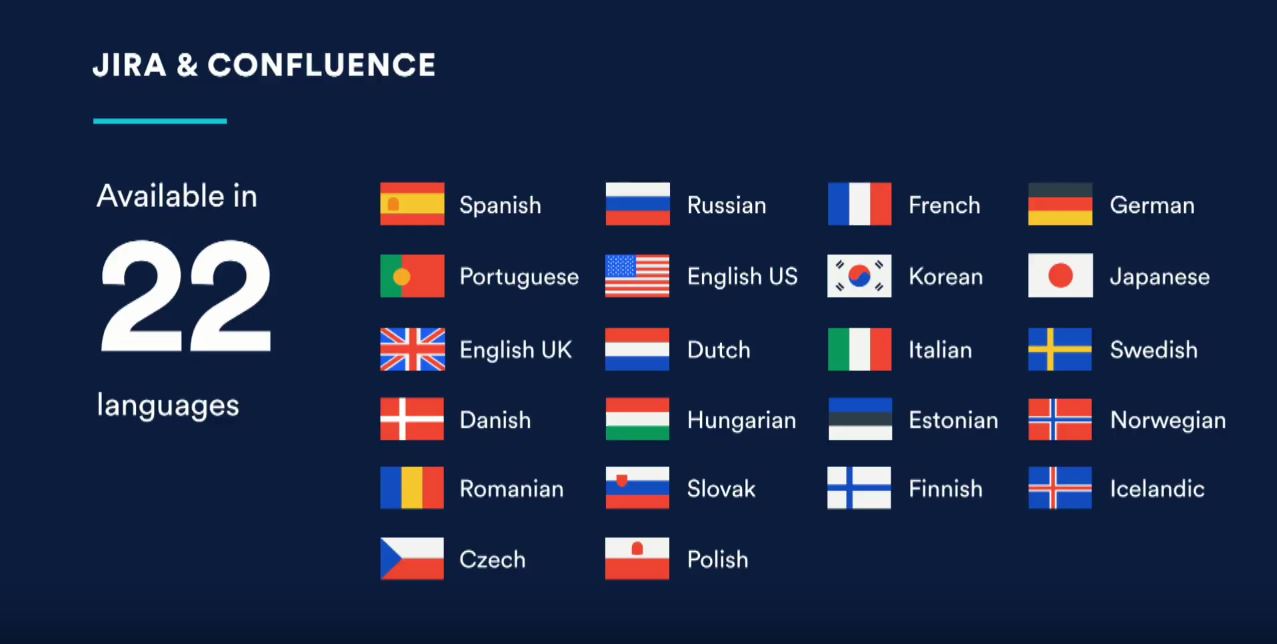 Of course, nothing is perfect, and each of the companies named in the report also has 'cautions' assigned to it. In spite of their dramatic-sounding name, though, these are fairly minor weaknesses, but they're things that are worth taking into account all the same.
Atlassian licensing, for example, is described by Gartner as "no-negotiation". However, in the same breath, this is offset by the ability to have a Technical Account Manager. It's also worth considering the influence of organisations like Clearvision, which can handle all your licensing arrangements for you, countering any such difficulties.
Gartner also points to the challenges of upgrading and migration, as well as the complexity of setting up reporting and workflow capabilities. Again, though, these are areas where Atlassian Solution Partners like Clearvision come in, and such a criticism really only highlights the way in which Atlassian chooses to work with third-party firms to provide the highest level of quality throughout the world. Rather than overstretching itself, it focuses on making its core products better, which benefits everyone in the long run.
At the time of writing, Atlassian's first ever European Summit is taking place. Thousands of users, vendors and developers have gathered in Barcelona to hear from Atlassian's founders and key team members. Such events are an essential part of defining Atlassian's ongoing plans, and they also enable it to further understand how DevOps and agile working practices are being used, by engaging with the very people who work in the Atlassian ecosystem.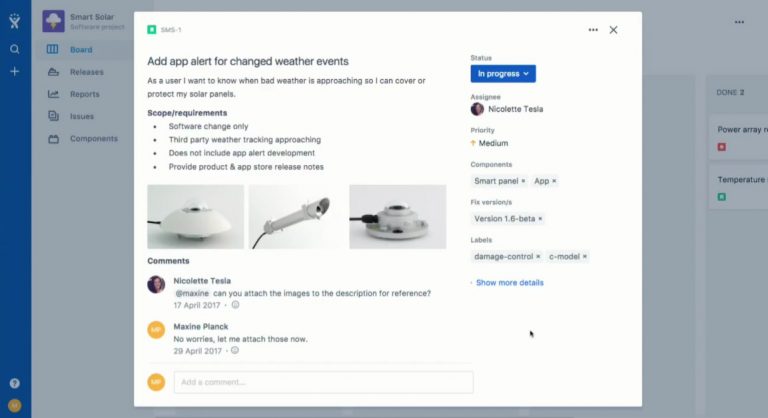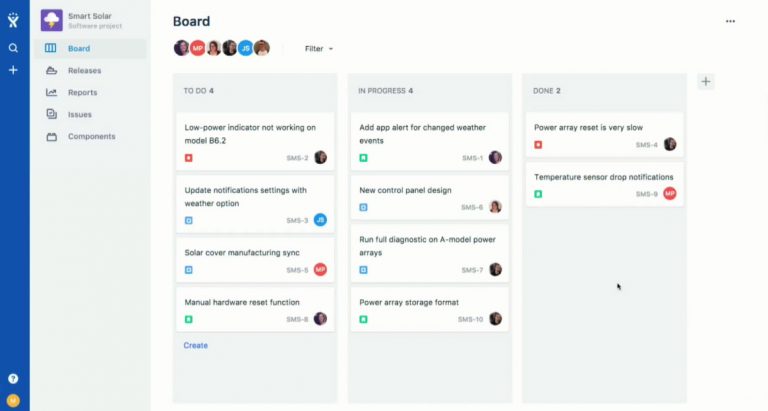 Already at this event, we've heard about HipChat Data Center being granted a public beta, various UIs have been given a refresh, and Trello has been present for its first Atlassian Summit. We'll cover all the announcements in a follow-up post, but what's clear already is that Atlassian isn't resting on its laurels, but is continuing to improve its products, through both innovation and acquisition.
Exactly what lies ahead is anyone's guess, but it seems highly likely that Atlassian is going to be leading the way for many years to come.
Atlasssian expert resources
Visit our blog for expert news and articles from the Atlassian world. On our resources page you will find recorded webinars, white papers, podcasts, videos and more.
Read our blog for articles offering best practice advice written by Atlassian experts, as well as the latest news concerning your software.
Software White Papers and Guides
Dive deep into Atlassian software with our white papers and guides on individual tools, partner products, services, and best practices, written by the experts.
All of our webinars are pre-recorded and available to watch on-demand. Enjoy everything from partner features to application demos and updates from Atlassian experts.