Atlassian: New Identifiers for Cloud in October 2021
For greater flexibility in Cloud billing, Atlassian is introducing new identifiers. The following does not apply to Server or Data Center.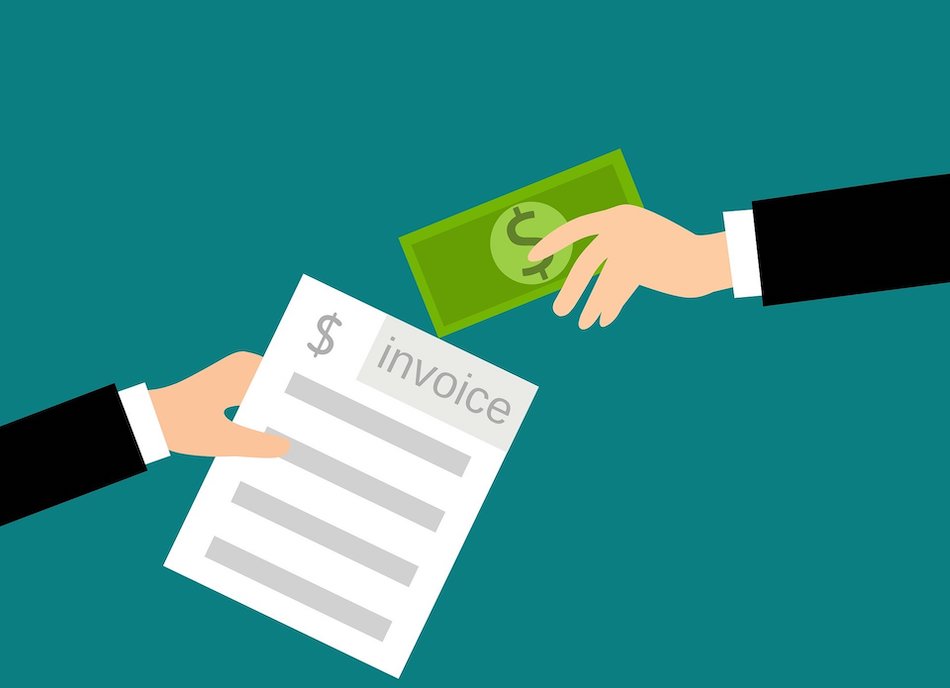 Mass Cloud migrations coupled with the growing complexity of products led Atlassian to launch the Commerce Cloud Platform (CCP) development project, paving the way for greater flexibility in the existing billing system. Today, we are excited to share the introduction of new identifiers due in October 2021!
To improve the billing experience on the new Commerce Cloud Platform (CCP), Atlassian will ditch Support Entitlement Number (SEN) as a unique identifier and switch to identifiers that better suit the subscription and provisioning needs of Cloud-based products.
Atlassian's new Cloud identifiers:
Identifier
Used for
Value
Reasoning
Format
EntitlementID
Entitlement identification
All Cloud products and services will have their own unique EntitlementID to simplify management and support.
The product SEN is not relied on, only the site SEN for support and invoicing purposes.
E-XXX-XXX-XXX / UUID : XXXXXXXX-XXXX-XXXX-XXXX-XXXXXXXXXXXX
CloudID

Site identificaiton (ex:

myStuff.atlassian.net

)

CloudID will be used to identify the Cloud site.

Cloud uses SEN to identify the site (e.g

site.atlassian.net

).

UUID: XXXXXXXX-XXXX-XXXX-XXXX-XXXXXXXXXXXX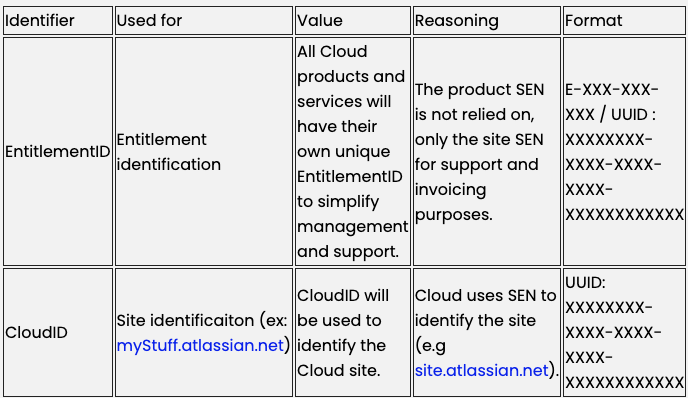 Unlike SEN, where the correlation between product and site prohibits flexibility, new identifiers will enable you to purchase products associated with the same site in more ways than one, i.e. payment methods and billing cadences.
Currently, the SEN product construct enforces a common identifier for subscriptions, features, and product entitlements on paying, hindering the management of bundles. New identifiers such as EntitlementID, however, will allow a dedicated identifier per product entitlement within a common subscription model, like a bundle.
Additionally, SEN will continue to be supported for all existing products on my.atlassian.com and support.atlassian.com until all products are transitioned to CCP. While all SEN customers are encouraged to adopt the new identifiers, SENs will co-exist to facilitate transitions without disruption.
No functional or billing-related changes to Cloud sites will occur, but if you do use the SEN to identify a site, you'll need to transition to the new identifier (CloudID) when available. 
Atlassian will continue to support the SEN for the foreseeable future in addition to the new identifiers for a smooth transition. New identifiers must be used when entitlements are migrated to the new platform, and there will be no change in the behaviour of recurring orders monthly or annual.
While Atlassian works to identify all APIs that depend on SEN and the impact, it is recommended that you document systems and downstream implications of the change. 
Clearvision experts are available to help you assess the impact and to support any API-specific changes required. Click the 'get in touch' button below to contact us.
Keep up to date with the latest Clearvision blog.
Our blog posts cover a wide range of topics from the latest software news to the latest in the Atlassian world. 
Search through our white papers and guides.
We have a wealth of expertise to share with you in our white papers and guides. 
Watch our webinars on everything from JSM, JWM, Atlassian tools and more.