Enterprise Performance at Scale: Webinars On Demand
Catch up with Clearvision's "performance at scale" webinar series. Watch the webinars from Clearvision, QASymphony, Sonatype, and TM Forum, for software advice and expertise around achieving high performance at scale as your business grows.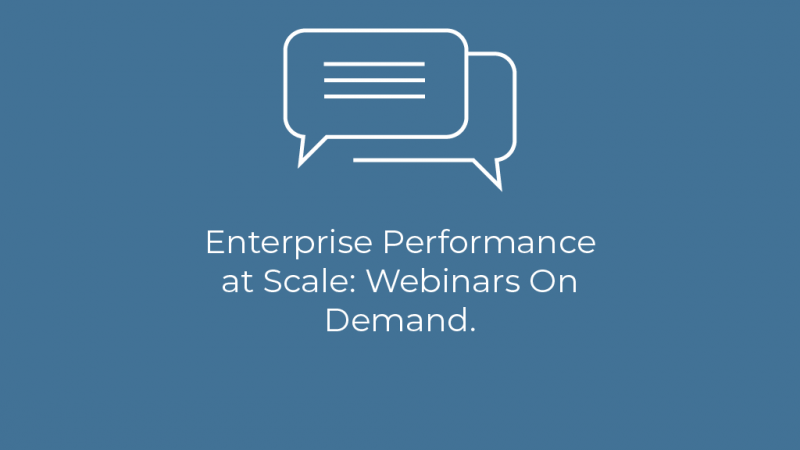 The challenges of ensuring high performance and reliability as your business grows are many. Is your infrastructure ready to scale alongside your teams? Is your software flexible, yet secure? Does it help you keep disparate teams around the globe on the same page?
In our work with enterprise organisations, we encounter – and help them overcome – many of these pain points. With that in mind, we recently hosted a series of webinars on the theme of "enterprise performance at scale", exploring the challenges businesses face when it comes to scaling mission-critical software, like the Atlassian tools, and the best approaches to take to achieve success.
The webinars tackle a number of different angles, from collaboration to testing to how to choose the right deployment options to meet your requirements. We asked thought leaders from our partner and customer organisations to contribute their experiences and expertise. As well as Clearvision's own experts, you can hear from QASymphony, Sonatype, and TM Forum.
The webinars are now available to view on demand. Watch below, or check out the entire playlist on Clearvision's YouTube channel.
Defending Uptime: Dealing with the Challenges of Performance at Scale
Andrew Stickland – Enterprise Solutions Director, Clearvision
When you're operating at scale, the smallest amount of downtime leads to huge costs. What can you do to prevent this?
In this webinar, Clearvision's Enterprise Solutions Director Andrew Stickland discusses performance in relation to people and tooling, exploring how to achieve governance, high performance, and reliability of mission-critical software like the Atlassian tools.
Software Testing and Quality at Scale
Kevin Dunne – VP Strategy and Business Development, QASymphony
Macro Trends In Enterprise Development & Strategies for Quality at Scale
Today's enterprises are struggling with brand new challenges when it comes to software development, and organizations are changing rapidly. Though testers were previously somewhat removed from development processes, Agile and DevOps are now demanding that testers improve their practices to stay current with the latest trends. In this presentation, Kevin will discuss five of the most important macro trends in enterprise software development:
1) Specialization 
2) Cloud hosting 
3) Architectural Shifts 
4) Collaboration 
5) Ease of Use/Deployment
For each trend, Kevin will provide useful tips and strategies that enterprises can employ to make sure they are staying one step ahead of the trends and maintaining quality at scale.
Ilkka Turunen – Solutions Architect, Sonatype
Build Quality into Production – Managing the software supply chain
More than DevOps – join Clearvision and Sonatype for this exploration of DevSecOps, and how it can be key to scaling your business. In 2016, we studied the patterns and practices exhibited by 3,000 high-performance software development organizations. In early 2017, we ran a community survey to understand the state of security within DevOps practitioners, and today we're sharing the results.
Software development teams and their DevOps practices are consuming billions of open source and third-party components. The good news: they are accelerating time to market. The bad news: 1 in 17 components they are using include known security, license and architectural defects. Ugh.
This session aims to enlighten DevOps professionals, enterprise architects, and IT leaders by sharing results from the 2016 State of the Software Supply Chain Report – a blend of public and proprietary data with expert research and analysis.
Richard May – VP, Technology & Community, TM Forum
Communication and teamwork are key to success, but can be tricky at enterprise scale. How do you foster a global culture of collaboration? How do you overcome the technical and cultural challenges?
Join Clearvision and TM Forum to learn how TM Forum is using Atlassian Confluence as a collaborative platform to bring together hundreds of member organisations, to help them build best practices and standards, leverage new technological opportunities, and create management frameworks.
Atlassian at Scale: Cloud vs. Server vs. Data Center
Mark Roke – Technical Product Manager, Clearvision
You've got the right tools to empower teamwork, but how do you guarantee high availability and performance at scale? This webinar aims to bring clarity and a good understanding of the platform offerings from industry-leading Atlassian.
As your business grows, you need to be sure your systems and supporting software grows with you, and this is where Atlassian's different deployment options come in. Join Mark in this webinar to explore just what Data Center is, and answer the question: should I stick with Server or is it the Cloud I should be looking up to?
Atlasssian expert resources
Visit our blog for expert news and articles from the Atlassian world. On our resources page you will find recorded webinars, white papers, podcasts, videos and more.
Read our blog for articles offering best practice advice written by Atlassian experts, as well as the latest news concerning your software.
Software White Papers and Guides
Dive deep into Atlassian software with our white papers and guides on individual tools, partner products, services, and best practices, written by the experts.
All of our webinars are pre-recorded and available to watch on-demand. Enjoy everything from partner features to application demos and updates from Atlassian experts.