The right software can mean the difference between success and failure for your teams. In this post, we compare the pros, cons and different features of Confluence vs SharePoint to help you make the right decision.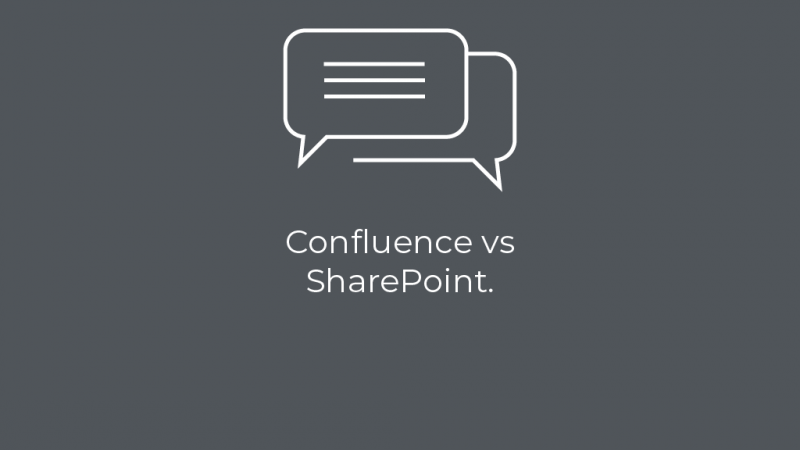 Atlassian Confluence and Microsoft SharePoint are both documentation platforms popular within enterprise businesses. Organisations often find themselves torn between these two pieces of software. On the surface, they look similar. The truth is, though, that beneath these baseline similarities, Confluence and SharePoint in fact serve two different purposes when you take a deeper dive into their features.
With this in mind, we've put together this comparison of the two tools in order to help organisations identify the best option for their requirements. Read on to learn more!
In their own words…

Atlassian Confluence
One place for all your team's work.
Spend less time hunting things down and more time making things happen. Organize your work, create documents, and discuss everything in one place.
via Atlassian

Microsoft SharePoint
SharePoint: Empowering teamwork.
Empower individuals, teams and organizations to intelligently discover, share, and collaborate on content from anywhere and on any device.
via Microsoft
Point 1: Content collaboration and organisation
Teams need to be able to overcome challenges and collaborate effectively and efficiently in order to get work done. For this to work, they need a place where they can do that collaboration. The software teams use for this is increasingly significant, with remote workers and globally distributed teams now a standard feature of modern work environments. Without the right software, remote teams can't work.
Employees need to be able to access, edit, update and share documents and content no matter where they are.
Confluence and SharePoint are both available in the cloud, meaning they both offer this essential any time, any place access.
When it comes to actively collaborating on content, however, Confluence edges ahead. It's ideal for documentation that grows and evolves. Users can collaborate in real time, working directly on pages with the long awaited concurrent editing feature now arriving with Confluence 6.0. Users are also able to access previous versions of content, making it easy to see changes and revert back if necessary. Comparatively, SharePoint's content is relatively static.
Confluence serves as a living knowledge base, promoting transparency and collaboration between teams and departments. SharePoint, on the other hand, is geared more towards document management. SharePoint gains points among teams who need to bring together files and documents in a range of different formats. SharePoint also offers more complex permissions and control – a plus in enterprise organisations with complicated levels of security, but a potential hindrance to transparency at the same time.
Overall: Confluence wins
Point 2: Features and functionality
We've covered collaboration, but what about the other features and functionality available in Confluence and SharePoint?
The below table outlines a range of features in Confluence and SharePoint.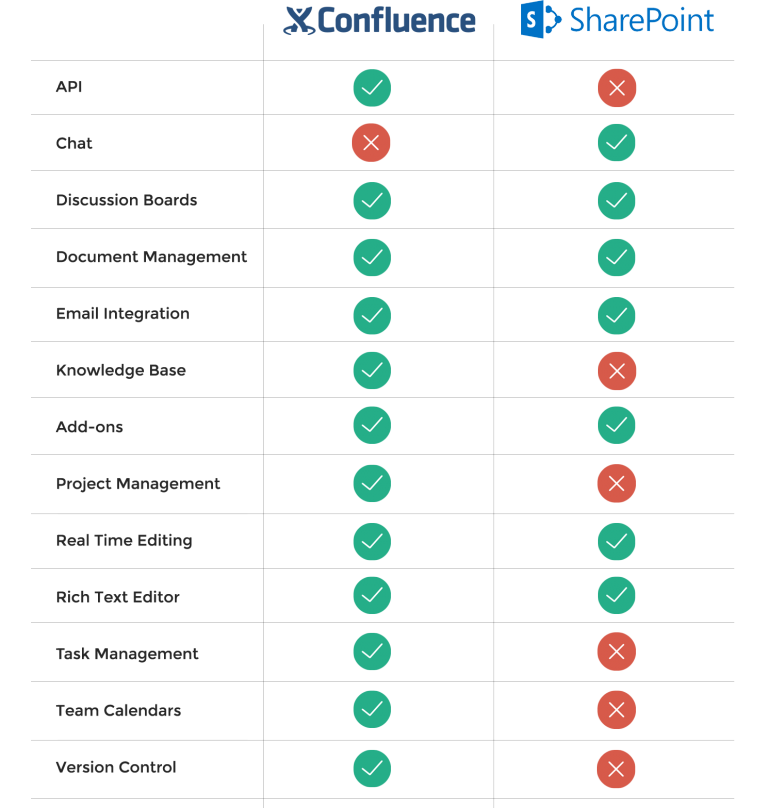 Confluence lacks the inbuilt chat functionality of SharePoint, but Atlassian also offers HipChat, a chat service for enterprise teams that can be connected to Confluence. Confluence's task management and calendar features, as well as its project management functionality, pushes it ahead of SharePoint for teams looking for more than document management.
Overall winner: Confluence
Point 3: Enterprise scale cloud user limit
Microsoft offers enterprise organisations the choice between SharePoint Online on the cloud, or SharePoint Server. Atlassian also offers the choice between Confluence hosted in the cloud or on your server, although with limitations – organisations with 10,000+ users are restricted to the server version of Confluence.
For both tools, pricing is varies depending on requirements, with the primary factor being the number of users.
Overall winner: SharePoint
Point 4: Integrations and add-ons
Confluence and SharePoint will take care of your documentation and content collaboration, but what about the other tasks your teams need to perform. What about other software your teams use?
This is why it's important not only to look at the features of Confluence and SharePoint, but the available integrations and extras.
Both pieces of software offer strong integrations with other tools from their vendors. Confluence integrates closely with Atlassian's JIRA, HipChat, and other development tools, while SharePoint forms part of Microsoft's Office 365 offering.
Perhaps more interestingly, both Confluence and SharePoint integrate with a range of add-ons and plugins to extend functionality. This is how teams can really tailor their experiences to their needs. Both the Atlassian Marketplace and the SharePoint Office Store have thousands of add-ons, including paid and free versions. These come from Atlassian and Microsoft and from external vendors and independent developers alike.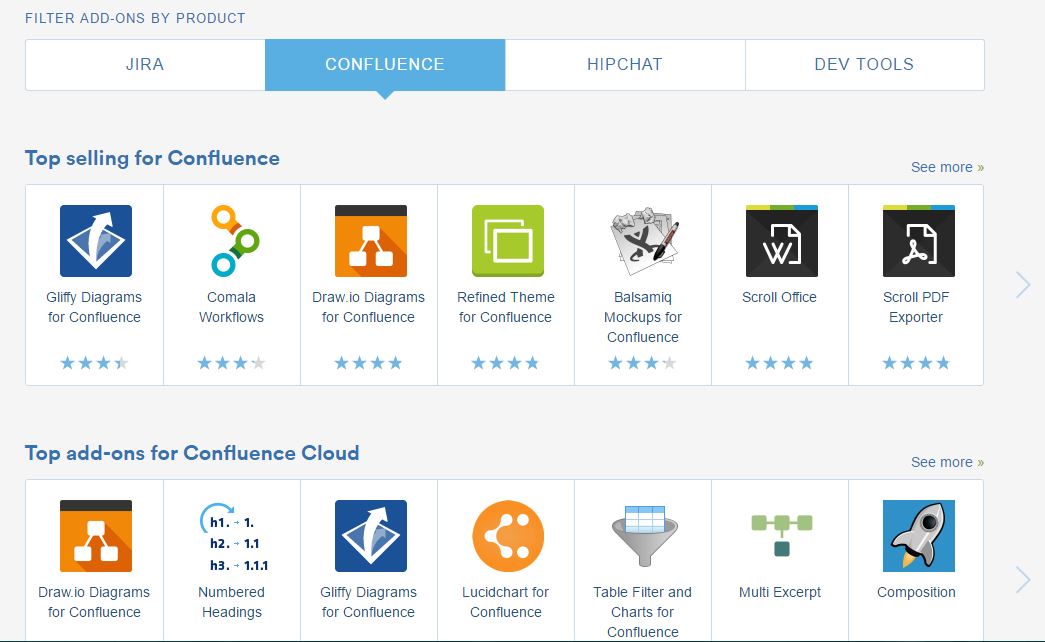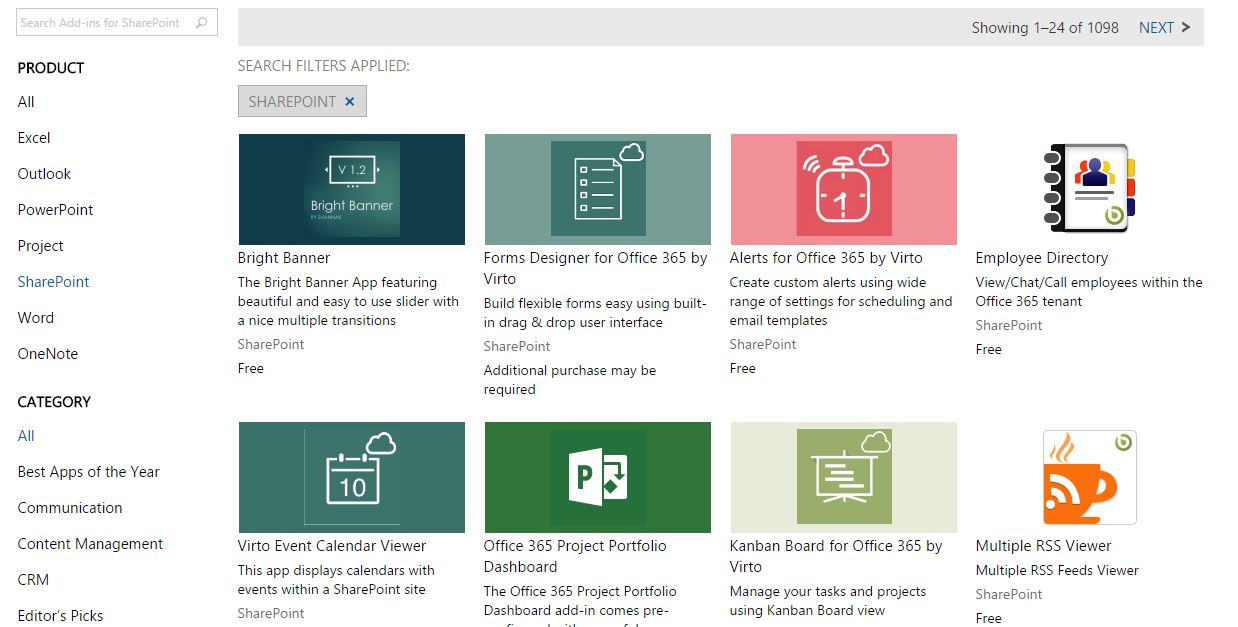 At the time of writing, Microsoft offers over 1,000 add-ons for SharePoint, while the Atlassian Marketplace offers close to 700 add-ons for Confluence.
Overall winner: SharePoint
Point 5: Going mobile
Both SharePoint and Confluence have recently been released as mobile apps.
It's good news for iPhone fans, as both apps are currently available for iOS – though Android users shouldn't have much longer to wait. Microsoft and Atlassian have both stated that while only iOS versions are currently available, they are working on Android apps and even apps for Windows phones to be released in the near future.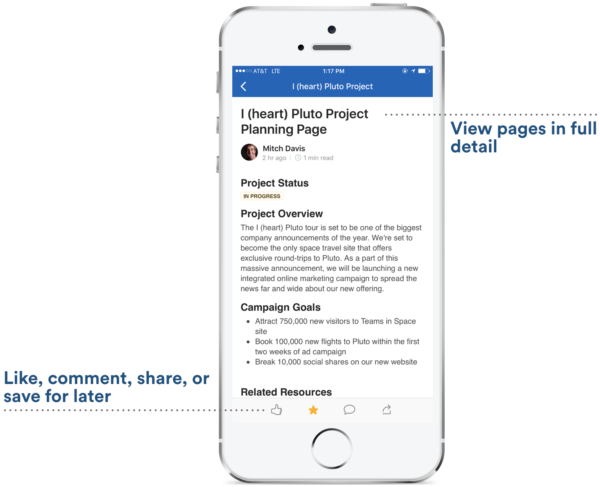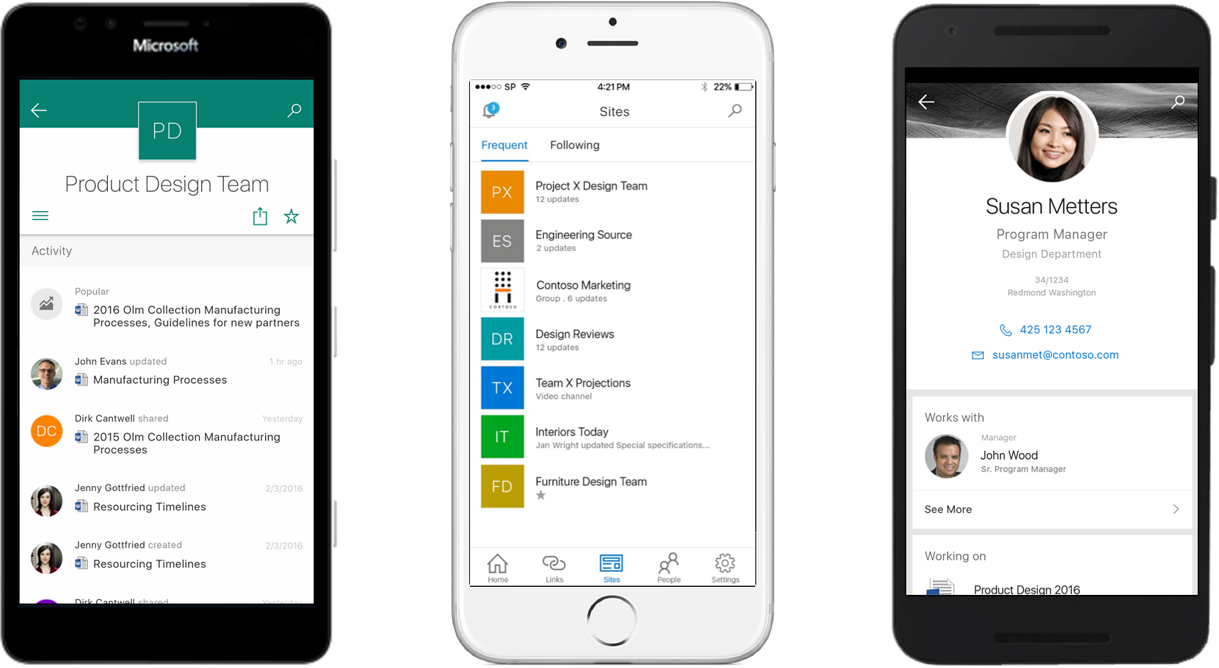 With the Confluence and SharePoint apps both such recent releases – both officially released in June 2016 – it's hard to say which is the more successful mobile app. However, as users are currently able to sign up for early access to the Confluence Android app, Atlassian appears to be marginally further ahead in bringing Confluence to non-iPhone users on the go.
Overall winner: Confluence
The results: Confluence wins!
Truthfully, the "best" tool will always be the one that meets your organisation's specific requirements. As we've covered here, while Confluence offers more collaborative functionality and is ideal for growing teams with evolving documents, SharePoint is better suited to document management. It all depends what your teams need a content platform for – your requirements will shape your choices.
Overall, though, we recommend that you keep the value of collaboration at the forefront of your decision making. Making collaboration easier and simpler makes teamwork faster and more efficient. The Clearvision team has worked with organisations of all sizes across the globe, and in our extensive experience Confluence is the best tool for promoting real time collaboration, allowing your teams to build a shared knowledge base and help each other.
Atlasssian expert resources
Visit our blog for expert news and articles from the Atlassian world. On our resources page you will find recorded webinars, white papers, podcasts, videos and more.
Read our blog for articles offering best practice advice written by Atlassian experts, as well as the latest news concerning your software.
Software White Papers and Guides
Dive deep into Atlassian software with our white papers and guides on individual tools, partner products, services, and best practices, written by the experts.
All of our webinars are pre-recorded and available to watch on-demand. Enjoy everything from partner features to application demos and updates from Atlassian experts.