Great news if you're a Clearvision customer
By joining forces with Eficode, Clearvision now offers an new, impressive range of additional services within Atlassian, Agile, DevOps and Product Management.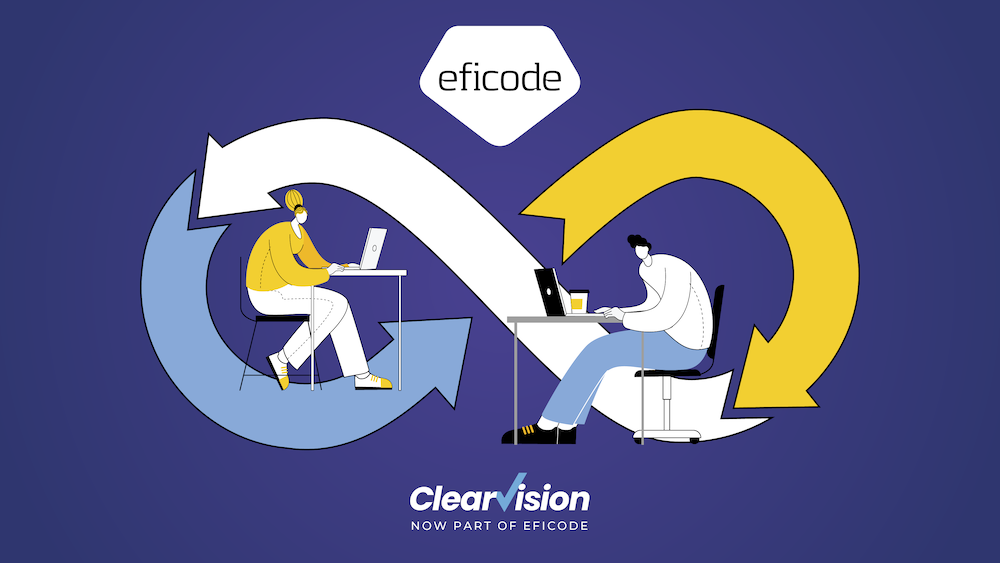 There has never been a better time to be a Clearvision customer. In case you missed it, we've joined forces with Eficode – meaning you've now got even more products and services at your disposal.
If you need a quick reminder about our acquisition, check out the Press Release here. 
Everyone wants to know what they're getting out of this experience, and this blog post is here to show you the benefits.
Based in Finland, Eficode is Europe's leading DevOps company and an international authority within the Atlassian ecosystem. They provide consultancy, training, coaching and managed services within:
Agile Methodology

DevOps

Product Management
Clearvision has always been the go-to UK source for Agile, Git and open-source tooling. But now with Eficode joining us, we can provide greater opportunities in services to benefit you; from leading names such as Volvo, General Electric or Sennheiser. 
With all these resources accessible under one roof (whether it's for past clients of ours or potential ones in the future), there's a real opportunity to unlock unique advantages that were previously unavailable. So let us show what more you could gain by connecting with Clearvision today!
Familiar faces - Greater pool of experts
We remain committed to providing the services you know and trust – that has not changed. Additionally, our internal resources have evolved to provide a wealth of knowledge in the DevOps and Agile fields. You can still get hold of us quickly for any help or support needed – but now with added insight from an international expert pool backing every request.
Less shopping around for services
While we've offered services within Atlassian, Git and open-source tools here at Clearvision, we're now also your service providers on almost anything DevOps and Agile. Whether you need help with tooling, processes, or culture, we have the right people and resources to make it work for you. 
By working with a single vendor, all your worries go away! Problems with GitHub? Need help understanding Jira Software? No problem – just reach out to the same expert who can point you in the right direction and get solutions quickly.
Have your entire DevOps toolchain as a managed service
Through the unique Eficode ROOT Managed DevOps Platform, you can have your entire DevOps toolchain (or parts of it) as a managed service. 
Streamline your software development process with expertly managed DevOps tools. Choose from over 50 of the most popular options, and effortlessly scale up or down to meet any project's needs. Reassure developers that all maintenance, licenses and optimisations are taken care of, so they can focus on their core responsibilities – speeding up progress in an efficient way!

Knowledge sharing that never ends
Every year, Eficode organises The DevOps Conference, a global event drawing an international audience of 10,000 participants. With its multi-track approach and up-to-date topics like CI/CD; Agile methodology; Cloud native technology innovations and more – it provides the perfect platform for all professionals in search of knowledge on digital transformations from experienced leaders around the world. Eficode strongly supports their consultants' involvement with local communities like Meetup groups or DevOps Days by providing them opportunities that enable growth within this quickly changing industry landscape.
You can also find an extensive range of educational content on the subjects above (blogs, webinars, etc.) on Eficode's website.
Here are some written blogs by Eficode to help get you started:
The 10 building blocks every Agile organisation needs
CI/CD vulnerability scanning – How to begin your DevSecOps journey
10

countries

1,400+

customers

600+

employees (and growing!)

50+

tools managed in their Eficode ROOT Managed DevOps Platform
Clearvision customers have it all – a familiar friendly atmosphere and now, access to Eficode's expansive resources. There really is no better time to be part of the Clearvision family! 
With our increased capabilities we can ensure that you get your project done with even less hassle and disruption than before. Let us show you how simple modern tech solutions can make life easier for everyone involved.
Share this blog post on your social.
Visit our blog for expert news and articles from the Atlassian world. On our resources page you will find recorded webinars, white papers, podcasts, videos and more.
Eficode acquires Clearvision to take on UK and USA
Eficode has acquired Clearvision, a solutions provider for Atlassian, Git, and open-source tooling. The acquisition fortifies Eficode's presence in the United Kingdom and establishes Eficode in the US.
Migrating Atlassian Data in small, manageable pieces
Big-Bang Atlassian data migrations, Server to Cloud, have become the norm, but lower-risk, more agile alternatives are available for greater business value.
Assessing your Cloud migration needs!
Having trouble figuring out the requirements for your Cloud migration? Check out this blog to better understand your business needs.